MERILYZER GLUQUANTA1C DIABETES MACHINE
Overview of HbA1c
Merilyzer GluQuantA1c diabetes machine is a fully automated HbA1c analyzer based on Ion Exchange Chromatography with HPLC principle.
Merilyzer GluQuantA1c is an automatic instrument used to measure the ratio of glycated hemoglobin in blood, characterized of small sampling, fast analysis, etc.
The analyzer can analyze the whole blood/diluted sample, display the peak map of glycated and non-glycatedhemoglobins in the sample, and figure out %A1ab, %F, %La1c, %A1c and %A0 by the area ratio of peak shape.
This diabetes machine gives result in NGSP unit, Reference Value (NGSP Unit)
Healthy Population 4.0%~6.0 %
Acceptable Range 6.0%~8.0%
Diabetic Patients >8.0%, It is recommended that each laboratory establish its own reference values according to the characteristics of population.
Merilyzer GluQuantA1c Linear range of HbA1c is 4%-17%, with correlation coefficient r≥0.99.
Advantages
Reasons of choosing Merilyzer GluQunatA1c Diabetes Machine
#HPLC Principle- HPLC is a recommended principle by WHO among the various HbA1c principles, HPLC principle is recognized as a 'Gold Standard' as it has a high sensitivity and stable performance
# IFCC certified
#Eliminate unstable Hb interferences
#Eliminate variant Hb interference s
#HbF, HbA1c also can be tested at the same time
# Accuracy & Stability
# Real time diagram insterface
# Covenient operating software with Touch screen input
# Barcode reading & Auto-mixing function
# Whole blood mode (1.5ml) / diluted mode(10ul) automatic identify the sample type
# Automatic sample entry: on board capacity 50 samples,
Non-stop
# Cap puncture function
# Data storage > 20000
# Pressure, temperature, test quantity display with Pressure, temperature alarm
# LIS data transmission
#Low cost
#Repeatability: CV≤ 2.0 %.
Benefits
Accurate & reliable test result- Adopting High Pressure plunger Pump (Micro-pump) to provide a hydrodynamic force, without the influence of any resistance from the rest of the entire chromatographic system ensure to provide a constant velocity
Intutitive Software- User friendly operating system, easy to operate
Fully automatic walkaway system by enabling the barcode reader with fast sample processing speed 50 samples can be run in one batch.
HbA1c NGSP [NGSP value(%)=0.0981×IFCC value(mmol/mol)+1.95] , IFCC value(mmol/mol)=(NGSP value(%)-1.95)/ 0.0981), HbF (Fetal Hemaoglobin),eAG[(Estimated Average Glucose ) =28.7 X A1C – 46.7 ] can also be tested at the same time
Eliminates unstable and variant HbA1c interference- It used microcolumn and reagents to separate the hbA1c from the non-glycated fraction, it uses ion exchange chromatography in conjuction with gradient elution to separate human hemoglobin subtypes and Variants from hemolysed whole blood.
Overview for HbA1c
Diabetes is a metabolic disorder that shoots up the blood sugar level in human body. It has huge prevalence all over the globe. Polydipsia (excessive thirst),Polyuria (Frequent Urination) & Polyphagia (constant hunger) these are the major symptoms of diabetes. There are 2 types of diabetes: Type 1 (Body doesn't produce enough insulin) & Type 2 diabetes (body cannot use insulin properly), type 2 diabetes can be hereditary. Early detection is possible by regular interval monitoring of blood sugar level.
Nowaday,s it is recommended glycated hemoglobin (HbA1c) as a possible substitute to fasting blood glucose for diagnosis of diabetes.
Glycated hemoglobin or glycosylated hemoglobin (hemoglobin A1c, HbA1c, A1C, or Hb1c; sometimes also HbA1c) is a form of hemoglobin that is measured primarily to identify the average plasma glucose concentration over prolonged periods of time.
When blood glucose levels are at an elevated level, glucose molecules get joined with the hemoglobin in RBCs. The longer blood glucose levels remain elevated, more glucose gets bound to RBCs and the higher will be the glycosylated hemoglobin.
As soon as a hemoglobin molecule is glycated, it stays in that form. Glycated hemoglobin accumulation inside the RBCs, therefore, reveals the average level of glucose to which the cell is unprotected during its life-cycle. Hence, determining this glycated hemoglobin level evaluates the efficiency of therapy by observing the serum glucose regulation for a prolonged duration over time.
The HbA1c level is proportional to average blood glucose concentration over the previous four weeks to three months. Some researchers state that the major proportion of its value is weighted toward the most recent 2 to 4 weeks
In diabetes mellitus, higher amounts of glycated hemoglobin, indicating poorer control of blood glucose levels, have been associated with cardiovascular disease, nephropathy, and retinopathy. Monitoring HbA1c in type 1 diabetic patients may improve outcomes.
Significance of HbA1c:
To assess the long term glycemic control in diabetic patients
To predict risk for development of chronic complications in diabetes
To guide treatment of diabetes more effectively
The results of HbA1c measurement are expressed in percentage, indicating the ratio of hemoglobin combined with glucose to the total hemoglobin. The HbA1c level of non diabetic patient is 4-6%.
Many studies have shown that if the diabetic patients could lower the HbA1c level to below 8%, the incidence of the diabetes complications will be lowered greatly.
If the HbA1c level is higher than 9%, it means the blood glucose of the patient is continuously high, and complications, such as diabetic nephropathy, atherosclerosis and cataract, even acute complications, such as diabetic ketoacidosis, may come up.
GLUQUANT A1C USES THE ESTABLISHED INTERNATIONAL REFERENCE METHOD OF CATION EXCHANGE HIGH PRESSURE LIQUID CHROMATOGRAPHY
NO SAMPLE PRE-TREATMENT IS REQUIRED
DIRECT PRIMARY TUBE SAMPLING WITH CAP PIERCING
AUTOMATIC SAMPLE ENTRY, ON BOARD CAPACITY OF 50 SAMPLES WITH AUTOMATIC BARCODE READER
SAMPLE CYCLE: ≤ 150 SECS/TEST HIGH PRECISION, CV≤2%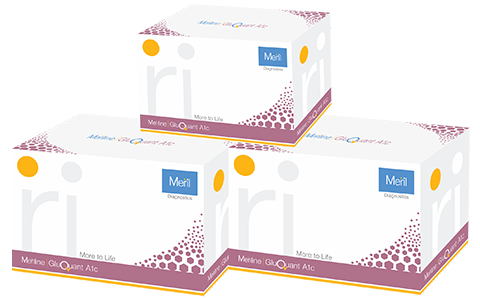 Accurate & reliable test result- Adopting High Pressure plunger Pump (Micro-pump) to provide a hydrodynamic force
Intutitive Software- User friendly operating system, easy to operate
Fully automatic walkaway system by enabling the barcode reader with fast sample processing speed 50 samples can be run in one batch.
HbA1c NGSP , IFCC , HbF ,eAG can also be tested at the same time
Eliminates unstable and variant HbA1c interference
Indication:
High levels of HbA1c can indicate poor treatment compliance and an increased risk of complications such as kidney failure, nerve damage, heart disease and eye disease.

Determination of HbA1c is important in the longer term care of a diabetic patient and in the monitoring of pregnancy related diabetes and therapeutic interventions.

Regular monitoring 3 or 4 times a year is recommended and can lead to successful changes in diabetes treatment and improved control.
Product IFU
Note: IFU will be displayed after MDR Certification