MERIFEIM
MERIFEIMTM is an absorbable gelatin sponge hemostat manufactured from a highly purified first-grade gelatin material. MERIFEIMTM can be effectively used in various surgeries for hemostasis when control of capillary, venous and arteriolar bleeding by pressure, ligature and other conventional methods are ineffective or impractical.
BIO-ABSORBABLE
UNIFORM POROSITY
NEUTRAL PH
NON-ADHERENT
DOUBLE STERILE PACK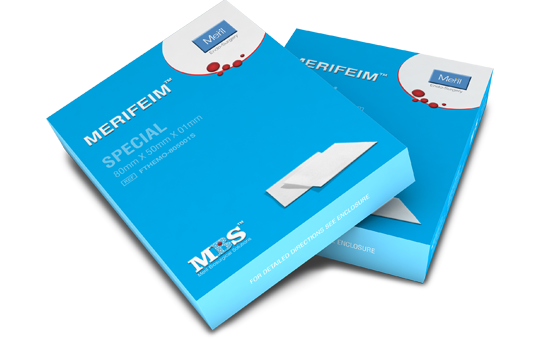 Aids hemostatic effect on application in 3-4 minutes.
Effective uniform blood absorption.
Compatible as a vehicle for drug delivery.
Does not interfere in tissue healing.
Indication
Standard: Finds application in almost all surgeries ranging from abdominal, genito-urinary, otolaryngological, gynecological, partial nephrectomy, hepato-biliary surgeries
No Touch Pack: For control of surgical site infection in critical conditions
Tampon: For reduction in post-operative pain and patient comfort
Endoscopic Tampon: For hemostasis in endoscopic or laparoscopic key-hole surgeries
Special: For hemostasis at hard to reach and delicate surgical sites, with lesser tamponade
Powder: For quick hemostasis and complete coverage required on rough and uneven surfaces
Product IFU
Note: IFU will be displayed after MDR Certification