MIRUS LIGATING CLIP
Strong and Secure Metal ( Titanium ) Ligating System.
The MIRUSTM Ligating Clips are widely used in surgery for vessel closure as well as for marking purposes. They are designed for use on tubular structures or blood vessels, wherever indicated.
LATERAL AND TRANSVERSE GROOVES
PRECISE TIP-TO-TIP CLOSURE
TITANIUM CLIPS
6 CLIPS CARTRIDGE
12 APPLIERS WITH DIFFERENT SIZES AND LENGTHS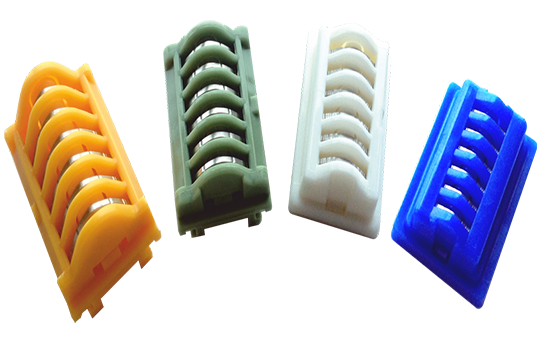 All 4 sizes to meet every surgical ligation need
Secure Fixation on Vessels
Indication
The MIRUSTM Ligating Clip can be used both in endoscopic procedures and open surgeries. They are commonly used in thoracic, vascular, gastrointestinal, urologic, gynecological, bariatric and general surgeries.
They are used with the appliers of different sizes according to the sizes of clips.
Product Specifications
| PRODUCT | PRODUCT CODE | SPECIFICATION | LENGTH | APPLICATOR SIZE | CLIPS COMPATIBILITY |
| --- | --- | --- | --- | --- | --- |
| Applicator-Open | FTOA-10015 | OPEN APPLICATOR 100-15CM | 15 cm | small | MLT100 |
| Applicator-Open | FTOA-10020 | OPEN APPLICATOR 100-20CM | 20 cm | small | MLT100 |
| Applicator-Open | FTOA-10028 | OPEN APPLICATOR 100-28CM | 28 cm | small | MLT100 |
| Applicator-Open | FTOA-20015 | OPEN APPLICATOR 200-15CM | 15 cm | Medium | MLT200 |
| Applicator-Open | FTOA-20020 | OPEN APPLICATOR 200-20CM | 20 cm | Medium | MLT200 |
| Applicator-Open | FTOA-20028 | OPEN APPLICATOR 200-28CM | 28 cm | Medium | MLT200 |
| Applicator-Open | FTOA-30015 | OPEN APPLICATOR 300-15CM | 15 cm | Medium-Large | MLT300 |
| Applicator-Open | FTOA-30020 | OPEN APPLICATOR 300-20CM | 20 cm | Medium-Large | MLT300 |
| Applicator-Open | FTOA-30028 | OPEN APPLICATOR 300-28CM | 28 cm | Medium-Large | MLT300 |
| Applicator-Open | FTOA-40015 | OPEN APPLICATOR 400-15CM | 15 cm | Large | MLT400 |
| Applicator-Open | FTOA-40020 | OPEN APPLICATOR 400-20CM | 20 cm | Large | MLT400 |
| Applicator-Open | FTOA-40028 | OPEN APPLICATOR 400-28CM | 28 cm | Large | MLT400 |
Product IFU
Note: IFU will be displayed after MDR Certification