CLINCH 5.5 POSTERIOR THORACIC & LUMBAR SPINAL FIXATION SYSTEM
The Spinal System consists of a variety of polyaxial screws, rods, hooks, locking nuts, and rod-to-rod connectors. Implant components can be rigidly locked into a variety of different configurations to suit the individual pathology and anatomical conditions of the patient.
Product Indications
CLINCH 5.5 Spinal System is intended to provide immobilization and stabilization of spinal segments in skeletally mature patients as an adjunct for fusion in the treatment of the following acute and chronic instabilities or deformities of the posterior thoracic, lumbar, and sacral spine:
Degenerative disc disease (as defined by back pain of discogenic origin with degeneration of the disc confirmed by patient history and radiographic studies)
Degenerative spondylolisthesis with objective evidence of neurologic impairment
Fracture
Dislocation
Scoliosis
Kyphosis
Spinal tumor and/or
Failed previous fusion (pseudoarthrosis)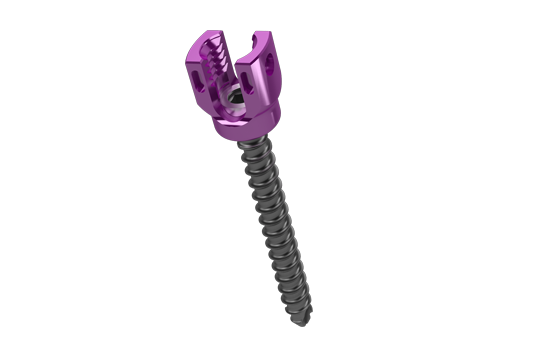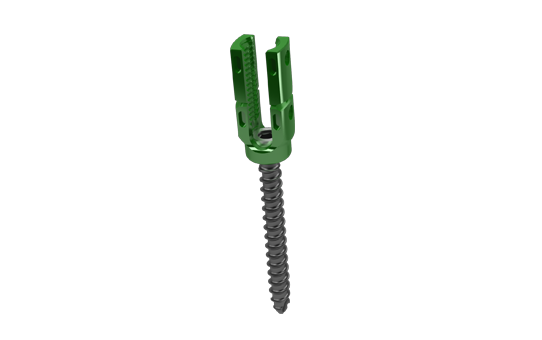 Improves the ease of insertion and security of final tightening.
Reverse angle thread technology offers a lower profile implant with no sacrifice in performance.
Size Chart
| Part No. | Description |
| --- | --- |
| MS-ST0640025 | 4.0mm CLINCH 5.5 Fixed Angle Screw 25mm |
| MS-ST0640030 | 4.0mm CLINCH 5.5 Fixed Angle Screw 30mm |
| MS-ST0640035 | 4.0mm CLINCH 5.5 Fixed Angle Screw 35mm |
| MS-ST0640040 | 4.0mm CLINCH 5.5 Fixed Angle Screw 40mm |
| MS-ST0645025 | 4.5mm CLINCH 5.5 Fixed Angle Screw 25mm |
| MS-ST0645030 | 4.5mm CLINCH 5.5 Fixed Angle Screw 30mm |
| MS-ST0645035 | 4.5mm CLINCH 5.5 Fixed Angle Screw 35mm |
| MS-ST0645040 | 4.5mm CLINCH 5.5 Fixed Angle Screw 40mm |
| MS-ST0645045 | 4.5mm CLINCH 5.5 Fixed Angle Screw 45mm |
| MS-ST0650030 | 5.0mm CLINCH 5.5 Fixed Angle Screw 30mm |
| MS-ST0650035 | 5.0mm CLINCH 5.5 Fixed Angle Screw 35mm |
| MS-ST0650040 | 5.0mm CLINCH 5.5 Fixed Angle Screw 40mm |
| MS-ST0650045 | 5.0mm CLINCH 5.5 Fixed Angle Screw 45mm |
| MS-ST0655025 | 5.5mm CLINCH 5.5 Fixed Angle Screw 25mm |
| MS-ST0655030 | 5.5mm CLINCH 5.5 Fixed Angle Screw 30mm |
| MS-ST0655035 | 5.5mm CLINCH 5.5 Fixed Angle Screw 35mm |
| MS-ST0655040 | 5.5mm CLINCH 5.5 Fixed Angle Screw 40mm |
| MS-ST0655045 | 5.5mm CLINCH 5.5 Fixed Angle Screw 45mm |
| MS-ST0655050 | 5.5mm CLINCH 5.5 Fixed Angle Screw 50mm |
| MS-ST0660025 | 6.0mm CLINCH 5.5 Fixed Angle Screw 25mm |
| MS-ST0660030 | 6.0mm CLINCH 5.5 Fixed Angle Screw 30mm |
| MS-ST0660035 | 6.0mm CLINCH 5.5 Fixed Angle Screw 35mm |
| MS-ST0660040 | 6.0mm CLINCH 5.5 Fixed Angle Screw 40mm |
| MS-ST0660045 | 6.0mm CLINCH 5.5 Fixed Angle Screw 45mm |
| MS-ST0660050 | 6.0mm CLINCH 5.5 Fixed Angle Screw 50mm |
| MS-ST0660055 | 6.0mm CLINCH 5.5 Fixed Angle Screw 55mm |
| MS-ST0665030 | 6.5mm CLINCH 5.5 Fixed Angle Screw 30mm |
| MS-ST0665035 | 6.5mm CLINCH 5.5 Fixed Angle Screw 35mm |
| MS-ST0665040 | 6.5mm CLINCH 5.5 Fixed Angle Screw 40mm |
| MS-ST0665045 | 6.5mm CLINCH 5.5 Fixed Angle Screw 45mm |
| MS-ST0665050 | 6.5mm CLINCH 5.5 Fixed Angle Screw 50mm |
| MS-ST0665055 | 6.5mm CLINCH 5.5 Fixed Angle Screw 55mm |
| MS-ST0670030 | 7.0mm CLINCH 5.5 Fixed Angle Screw 30mm |
| MS-ST0670035 | 7.0mm CLINCH 5.5 Fixed Angle Screw 35mm |
| MS-ST0670040 | 7.0mm CLINCH 5.5 Fixed Angle Screw 40mm |
| MS-ST0670045 | 7.0mm CLINCH 5.5 Fixed Angle Screw 45mm |
| MS-ST0675025 | 7.5mm CLINCH 5.5 Fixed Angle Screw 25mm |
| MS-ST0675030 | 7.5mm CLINCH 5.5 Fixed Angle Screw 30mm |
| MS-ST0675035 | 7.5mm CLINCH 5.5 Fixed Angle Screw 35mm |
| MS-ST0675040 | 7.5mm CLINCH 5.5 Fixed Angle Screw 40mm |
| MS-ST0675065 | 7.5mm CLINCH 5.5 Fixed Angle Screw 65mm |
| MS-ST0740030 | 4.0mm CLINCH 5.5 Fixed Angle Reduction Screw 30mm |
| MS-ST0740035 | 4.0mm CLINCH 5.5 Fixed Angle Reduction Screw 35mm |
| MS-ST0745030 | 4.5mm CLINCH 5.5 Fixed Angle Reduction Screw 30mm |
| MS-ST0745035 | 4.5mm CLINCH 5.5 Fixed Angle Reduction Screw 35mm |
| MS-ST0745040 | 4.5mm CLINCH 5.5 Fixed Angle Reduction Screw 40mm |
| MS-ST0750035 | 5.0mm CLINCH 5.5 Fixed Angle Reduction Screw 35mm |
| MS-ST0750040 | 5.0mm CLINCH 5.5 Fixed Angle Reduction Screw 40mm |
| MS-ST0750045 | 5.0mm CLINCH 5.5 Fixed Angle Reduction Screw 45mm |
| MS-ST0755030 | 5.5mm CLINCH 5.5 Fixed Angle Reduction Screw 30mm |
| MS-ST0755035 | 5.5mm CLINCH 5.5 Fixed Angle Reduction Screw 35mm |
| MS-ST0755040 | 5.5mm CLINCH 5.5 Fixed Angle Reduction Screw 40mm |
| MS-ST0755045 | 5.5mm CLINCH 5.5 Fixed Angle Reduction Screw 45mm |
| MS-ST0760035 | 6.0mm CLINCH 5.5 Fixed Angle Reduction Screw 35mm |
| MS-ST0760040 | 6.0mm CLINCH 5.5 Fixed Angle Reduction Screw 40mm |
| MS-ST0760045 | 6.0mm CLINCH 5.5 Fixed Angle Reduction Screw 45mm |
| MS-ST0760050 | 6.0mm CLINCH 5.5 Fixed Angle Reduction Screw 50mm |
| MS-ST0765035 | 6.5mm CLINCH 5.5 Fixed Angle Reduction Screw 35mm |
| MS-ST0765040 | 6.5mm CLINCH 5.5 Fixed Angle Reduction Screw 40mm |
| MS-ST0765045 | 6.5mm CLINCH 5.5 Fixed Angle Reduction Screw 45mm |
| MS-ST0765050 | 6.5mm CLINCH 5.5 Fixed Angle Reduction Screw 50mm |
| MS-ST0770035 | 7.0mm CLINCH 5.5 Fixed Angle Reduction Screw 35mm |
| MS-ST0770040 | 7.0mm CLINCH 5.5 Fixed Angle Reduction Screw 40mm |
| MS-ST0840030 | 4.0mm CLINCH 5.5 Multi-Axial Screw 30mm |
| MS-ST0840035 | 4.0mm CLINCH 5.5 Multi-Axial Screw 35mm |
| MS-ST0840040 | 4.0mm CLINCH 5.5 Multi-Axial Screw 40mm |
| MS-ST0845025 | 4.5mm CLINCH 5.5 Multi-Axial Screw 25mm |
| MS-ST0845030 | 4.5mm CLINCH 5.5 Multi-Axial Screw 30mm |
| MS-ST0845035 | 4.5mm CLINCH 5.5 Multi-Axial Screw 35mm |
| MS-ST0845040 | 4.5mm CLINCH 5.5 Multi-Axial Screw 40mm |
| MS-ST0845045 | 4.5mm CLINCH 5.5 Multi-Axial Screw 45mm |
| MS-ST0850030 | 5.0mm CLINCH 5.5 Multi-Axial Screw 30mm |
| MS-ST0850035 | 5.0mm CLINCH 5.5 Multi-Axial Screw 35mm |
| MS-ST0850040 | 5.0mm CLINCH 5.5 Multi-Axial Screw 40mm |
| MS-ST0850045 | 5.0mm CLINCH 5.5 Multi-Axial Screw 45mm |
| MS-ST0855030 | 5.5mm CLINCH 5.5 Multi-Axial Screw 30mm |
| MS-ST0855035 | 5.5mm CLINCH 5.5 Multi-Axial Screw 35mm |
| MS-ST0855040 | 5.5mm CLINCH 5.5 Multi-Axial Screw 40mm |
| MS-ST0855045 | 5.5mm CLINCH 5.5 Multi-Axial Screw 45mm |
| MS-ST0855050 | 5.5mm CLINCH 5.5 Multi-Axial Screw 50mm |
| MS-ST0860035 | 6.0mm CLINCH 5.5 Multi-Axial Screw 35mm |
| MS-ST0860040 | 6.0mm CLINCH 5.5 Multi-Axial Screw 40mm |
| MS-ST0860045 | 6.0mm CLINCH 5.5 Multi-Axial Screw 45mm |
| MS-ST0860050 | 6.0mm CLINCH 5.5 Multi-Axial Screw 50mm |
| MS-ST0865030 | 6.5mm CLINCH 5.5 Multi-Axial Screw 30mm |
| MS-ST0865035 | 6.5mm CLINCH 5.5 Multi-Axial Screw 35mm |
| MS-ST0865040 | 6.5mm CLINCH 5.5 Multi-Axial Screw 40mm |
| MS-ST0865045 | 6.5mm CLINCH 5.5 Multi-Axial Screw 45mm |
| MS-ST0865050 | 6.5mm CLINCH 5.5 Multi-Axial Screw 50mm |
| MS-ST0865055 | 6.5mm CLINCH 5.5 Multi-Axial Screw 55mm |
| MS-ST0870030 | 7.0mm CLINCH 5.5 Multi-Axial Screw 30mm |
| MS-ST0870035 | 7.0mm CLINCH 5.5 Multi-Axial Screw 35mm |
| MS-ST0870040 | 7.0mm CLINCH 5.5 Multi-Axial Screw 40mm |
| MS-ST0870045 | 7.0mm CLINCH 5.5 Multi-Axial Screw 45mm |
| MS-ST0875030 | 7.5mm CLINCH 5.5 Multi-Axial Screw 30mm |
| MS-ST0875035 | 7.5mm CLINCH 5.5 Multi-Axial Screw 35mm |
| MS-ST0875065 | 7.5mm CLINCH 5.5 Multi-Axial Screw 65mm |
| MS-ST0945045 | 4.5mm CLINCH 5.5 Multi-Axial Reduction Screw 45mm |
| MS-ST0950030 | 5.0mm CLINCH 5.5 Multi-Axial Reduction Screw 30mm |
| MS-ST0950035 | 5.0mm CLINCH 5.5 Multi-Axial Reduction Screw 35mm |
| MS-ST0950040 | 5.0mm CLINCH 5.5 Multi-Axial Reduction Screw 40mm |
| MS-ST0950045 | 5.0mm CLINCH 5.5 Multi-Axial Reduction Screw 45mm |
| MS-ST0955030 | 5.5mm CLINCH 5.5 Multi-Axial Reduction Screw 30mm |
| MS-ST0955035 | 5.5mm CLINCH 5.5 Multi-Axial Reduction Screw 35mm |
| MS-ST0955040 | 5.5mm CLINCH 5.5 Multi-Axial Reduction Screw 40mm |
| MS-ST0955045 | 5.5mm CLINCH 5.5 Multi-Axial Reduction Screw 45mm |
| MS-ST0960035 | 6.0mm CLINCH 5.5 Multi-Axial Reduction Screw 35mm |
| MS-ST0960040 | 6.0mm CLINCH 5.5 Multi-Axial Reduction Screw 40mm |
| MS-ST0960045 | 6.0mm CLINCH 5.5 Multi-Axial Reduction Screw 45mm |
| MS-ST0960050 | 6.0mm CLINCH 5.5 Multi-Axial Reduction Screw 50mm |
| MS-ST0965035 | 6.5mm CLINCH 5.5 Multi-Axial Reduction Screw 35mm |
| MS-ST0965040 | 6.5mm CLINCH 5.5 Multi-Axial Reduction Screw 40mm |
| MS-ST0965045 | 6.5mm CLINCH 5.5 Multi-Axial Reduction Screw 45mm |
| MS-ST0965050 | 6.5mm CLINCH 5.5 Multi-Axial Reduction Screw 50mm |
| MS-ST0970030 | 7.0mm CLINCH 5.5 Multi-Axial Reduction Screw 30mm |
| MS-ST0970035 | 7.0mm CLINCH 5.5 Multi-Axial Reduction Screw 35mm |
| MS-ST0970040 | 7.0mm CLINCH 5.5 Multi-Axial Reduction Screw 40mm |
| MS-ST1055001 | CLINCH 5.5 Set Screw |
| MS-ST1055002 | CLINCH 5.5 Set Screw, Break Off |
| MS-RT0855040 | CLINCH 5.5 Bent Rod 40mm |
| MS-RT0855045 | CLINCH 5.5 Bent Rod 45mm |
| MS-RT0855050 | CLINCH 5.5 Bent Rod 50mm |
| MS-RT0855055 | CLINCH 5.5 Bent Rod 55mm |
| MS-RT0855060 | CLINCH 5.5 Bent Rod 60mm |
| MS-RT0855065 | CLINCH 5.5 Bent Rod 65mm |
| MS-RT0255070 | CLINCH 5.5 Straight Rod with Hex 70mm |
| MS-RT0255075 | CLINCH 5.5 Straight Rod with Hex 75mm |
| MS-RT0255080 | CLINCH 5.5 Straight Rod with Hex 80mm |
| MS-RT0255085 | CLINCH 5.5 Straight Rod with Hex 85mm |
| MS-RT0255090 | CLINCH 5.5 Straight Rod with Hex 90mm |
| MS-RT0255095 | CLINCH 5.5 Straight Rod with Hex 95mm |
| MS-RT0255100 | CLINCH 5.5 Straight Rod with Hex 100mm |
| MS-RT0255110 | CLINCH 5.5 Straight Rod with Hex 110mm |
| MS-RT0255120 | CLINCH 5.5 Straight Rod with Hex 120mm |
| MS-RT0255130 | CLINCH 5.5 Straight Rod with Hex 130mm |
| MS-RT0255140 | CLINCH 5.5 Straight Rod with Hex 140mm |
| MS-RT0255150 | CLINCH 5.5 Straight Rod with Hex 150mm |
| MS-RT0255160 | CLINCH 5.5 Straight Rod with Hex 160mm |
| MS-RT0255180 | CLINCH 5.5 Straight Rod with Hex 180mm |
| MS-RT0255200 | CLINCH 5.5 Straight Rod with Hex 200mm |
| MS-RT0255250 | CLINCH 5.5 Straight Rod with Hex 250mm |
| MS-RT0255300 | CLINCH 5.5 Straight Rod with Hex 300mm |
| MS-RT0255350 | CLINCH 5.5 Straight Rod with Hex 350mm |
| MS-RT0255400 | CLINCH 5.5 Straight Rod with Hex 400mm |
| MS-RT0255500 | CLINCH 5.5 Straight Rod with Hex 500mm |
| MS-PT0255015 | CLINCH 5.5 Crosslink Plate 15mm |
| MS-PT0255018 | CLINCH 5.5 Crosslink Plate 18mm |
| MS-PT0255021 | CLINCH 5.5 Crosslink Plate 21mm |
| MS-PT0255024 | CLINCH 5.5 Crosslink Plate 24mm |
| MS-PT0255027 | CLINCH 5.5 Crosslink Plate 27mm |
| MS-PT0255030 | CLINCH 5.5 Crosslink Plate 30mm |
| MS-PT0255033 | CLINCH 5.5 Crosslink Plate 33mm |
| MS-PT0255036 | CLINCH 5.5 Crosslink Plate 36mm |
| MS-PT0255039 | CLINCH 5.5 Crosslink Plate 39mm |
| MS-PT0255045 | CLINCH 5.5 Crosslink Plate 39/45mm |
| MS-PT0255055 | CLINCH 5.5 Crosslink Plate 45/55mm |
| MS-PT0255065 | CLINCH 5.5 Crosslink Plate 55/65mm |
| MS-PT0255075 | CLINCH 5.5 Crosslink Plate 65/75mm |
| MS-HT0255001 | CLINCH 5.5 Pedicle Hook |
| MS-HT0255002 | CLINCH 5.5 Laminar Hook |
| MS-HT0255003 | CLINCH 5.5 Transverse Process Hook |
| MS-CT0355000 | CLINCH 5.5 Lateral Connector |
| MS-CT0455000 | CLINCH 5.5 Connector |
Product IFU
Note: IFU will be displayed after MDR Certification