TREDRO HIV 1-2 AB
TREDRO HIV 1-2 Ab is a rapid flow through in-vitro qualitative assay for the detection of antibodies to HIV 1 and HIV 2 human serum & plasma. TREDRO HIV 1-2 Ab is designed to detect antibodies specific to envelope glycoproteins of HIV-1 and HIV -2 by using unique combination of synthetic and recombinant antigens in the same device differentially.
FLOW THROUGH BASED DIFFERENTIAL DETECTION OF HIV-1 AND HIV-2
EMPLOYS SYNTHETIC AND RECOMBINANT ANTIGENS OF HIV-1 AND HIV-2
IN-BUILT PROCEDURAL CONTROL
SAMPLE ADDITION MONITORING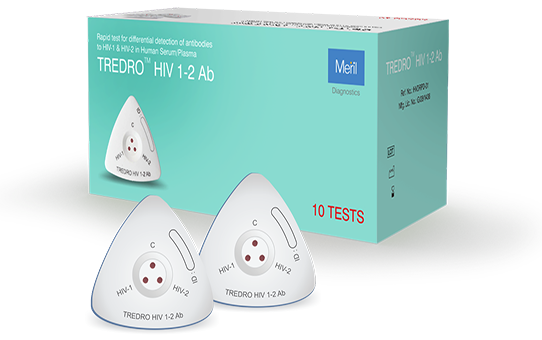 Detects antibodies against all groups including subtype C.
Result interpretation time: 3 minutes
Diagnostic Sensitivity: 100%
Diagnostic Specificity >99.5%
Indication
Differential detection of HIV -1 and HIV - 2 antibodies using unique combination of antigens
Product Specifications
Intended Use
3 Dot rapid test device for detection of antibodies against HIV -1 including subtype C and HIV -2 in human serum and plasma
Principle
Indirect Immunoassay
Technique
Flow Through
Detection
Antibodies to HIV -1 and HIV -2
Capture
HIV 1 Region - Recombinant and Synthetic peptides of highly immunodominant region of gp 41 and gp 120
HIV 2 Region - Recombinant and Synthetic peptides of highly immunodominant region of gp 36
Conjugate
Protein A gold Conjugate specific for Fc portion
Type of Specimen required
Serum or Plasma
Specimen Volume
50 ml (1 Drop)
Result interpretation time
3 minutes
Diagnostic Sensitivity
100%
Diagnostic Specificity
> 99.5%
Evaluations
National Institute of Biologicals; National AIDS Research Institute
Size Chart
Ordering Info
| Product Code | Material Description | Pack Size |
| --- | --- | --- |
| HVDRPD-01 | Tredro HIV 1-2 Ab | 10 Tests |
| HVDRPD-03 | Tredro HIV 1-2 Ab | 50 Tests |
Product IFU
Note: IFU will be displayed after MDR Certification