LATITUD MONOMOD STEM
MonoMod stem is the 1st of its kind revision stem in the world, ushering in a new generation of FTT (Fluted Tapered stems) with significant advantages over earlier designs. The MonoMod revision stem is a third-generation FTT non-cemented revision stem that combines the advantages of the 1st generation Monobloc and 2nd generation modular types of fluted tapered titanium femoral revision stems.
Fluted Tapered Titanium philosophy is now well established as the gold standard in femoral revisions. However, surgeons continue to have a dilemma in choosing between the Monobloc option and the modular version of FTT for a given clinical situation. Both types of FTT stems bring with them a unique set of advantages as well as disadvantages.
Monobloc FTT stems are easy to insert and have no risk of breakage but have a higher incidence of subsidence added with an inability to restore soft tissue tension in some cases. In contrast, modular ones are more resistant to subsidence and have a better scope to achieve soft tissue balance. However, they are more cumbersome to insert and have an intrinsic risk of breakage at the junction, especially if the proximal portion is left devoid of bone support. As the MonoMod combines the advantages of both types, it can be used in all situations, eliminating the dilemma in the surgeon's mind.
The MonoMod is essentially a monobloc stem but has an option of using proximal femoral augments to achieve secondary fixation in proximal bone without having a weak junction in the stem. In addition, it has various other features enabling reproducible consistent results. This 3rd generation design brings along key innovations to make it extremely surgeon-friendly.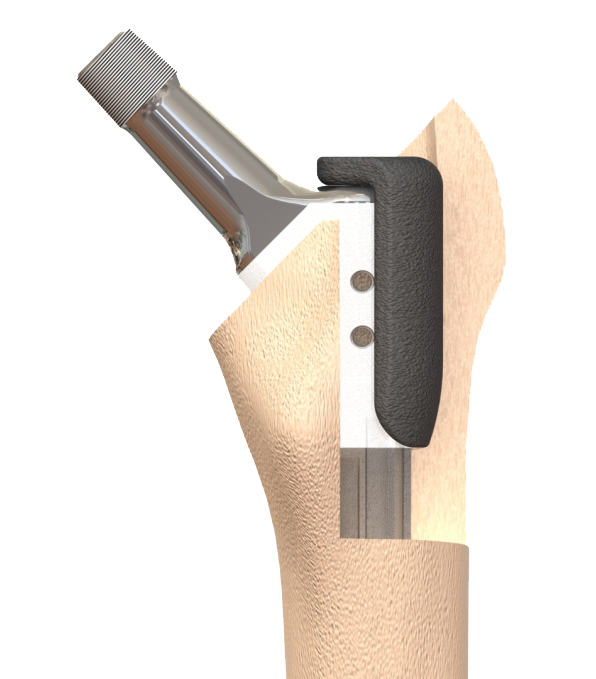 The Meril MonoMod is the third generation stem that combines the advantages of monobloc and modular types of tapered titanium revision stems while eliminating their respective disadvantages
Lateralized design with 2.5° taper geometry giving an enhanced zone of scratch-fit fixation for a given segment of prepared bone 8-10 longitudinal ribs depending on size for additional rotational resistance and to increase the total host bone contact surface area
Two holes for wire attachment to trochanteric fragment
Smaller sizes Ø12 & Ø13 to suit Narrow canal / Asian anatomy
Bevelled tip to accommodate bowed femoral bone
Availability of highly porous proximal femoral augments for proximal fit
Indication
Revision of previously failed hip arthroplasty or hemi-arthroplasty.
Failed previous hip surgery due to internal arthrodesis or surface replacement arthroplasty.
Unstable inter-trochanteric fracture in osteoporotic elderly patients.
Complex primary situation in which proximal bone is compromised due to previous surgery or disease.
Patent Pending Declaration
This product is protected by intellectual property rights, and the technology incorporated in this product is currently patent pending.
Product Specifications
Dimensional Sizes ( Dia)
Horizontal Offset

Length (mm)

L1(190mm)

12
40mm
Yes
13
40mm
Yes
14
42mm
Yes
15
42mm
Yes
16
42mm
Yes
17
42mm
Yes
18
44mm
Yes
19
44mm
Yes
20
44mm
Yes
21
44mm
22
46mm
23
46mm
24
46mm
25
46mm
Ordering Information
| COMPANY | PRODUCT TYPE | MATERIAL DESCRIPTION |
| --- | --- | --- |
| SRGC-L1/12 | MonoMod Revision non Cemented Stem | Uncemented Femoral Revision Stem L1/12 |
| SRGC-L1/13 | MonoMod Revision non Cemented Stem | Uncemented Femoral Revision Stem L1/13 |
| SRGC-L1/14 | MonoMod Revision non Cemented Stem | Uncemented Femoral Revision Stem L1/14 |
| SRGC-L1/15 | MonoMod Revision non Cemented Stem | Uncemented Femoral Revision Stem L1/15 |
| SRGC-L1/16 | MonoMod Revision non Cemented Stem | Uncemented Femoral Revision Stem L1/16 |
| SRGC-L1/17 | MonoMod Revision non Cemented Stem | Uncemented Femoral Revision Stem L1/17 |
| SRGC-L1/18 | MonoMod Revision non Cemented Stem | Uncemented Femoral Revision Stem L1/18 |
| SRGC-L1/19 | MonoMod Revision non Cemented Stem | Uncemented Femoral Revision Stem L1/19 |
| SRGC-L1/20 | MonoMod Revision non Cemented Stem | Uncemented Femoral Revision Stem L1/20 |
| SRGC-L1/21 | MonoMod Revision non Cemented Stem | Uncemented Femoral Revision Stem L1/21 |
| SRGC-L2/12 | MonoMod Revision non Cemented Stem | Uncemented Femoral Revision Stem L2/12 |
| SRGC-L2/13 | MonoMod Revision non Cemented Stem | Uncemented Femoral Revision Stem L2/13 |
| SRGC-L2/14 | MonoMod Revision non Cemented Stem | Uncemented Femoral Revision Stem L2/14 |
| SRGC-L2/15 | MonoMod Revision non Cemented Stem | Uncemented Femoral Revision Stem L2/15 |
| SRGC-L2/16 | MonoMod Revision non Cemented Stem | Uncemented Femoral Revision Stem L2/16 |
| SRGC-L2/17 | MonoMod Revision non Cemented Stem | Uncemented Femoral Revision Stem L2/17 |
| SRGC-L2/18 | MonoMod Revision non Cemented Stem | Uncemented Femoral Revision Stem L2/18 |
| SRGC-L2/19 | MonoMod Revision non Cemented Stem | Uncemented Femoral Revision Stem L2/19 |
| SRGC-L2/20 | MonoMod Revision non Cemented Stem | Uncemented Femoral Revision Stem L2/20 |
| SRGC-L2/21 | MonoMod Revision non Cemented Stem | Uncemented Femoral Revision Stem L2/21 |
| SRGC-L2/22 | MonoMod Revision non Cemented Stem | Uncemented Femoral Revision Stem L2/22 |
| SRGC-L3/14 | MonoMod Revision non Cemented Stem | Uncemented Femoral Revision Stem L3/14 |
| SRGC-L3/15 | MonoMod Revision non Cemented Stem | Uncemented Femoral Revision Stem L3/15 |
| SRGC-L3/16 | MonoMod Revision non Cemented Stem | Uncemented Femoral Revision Stem L3/16 |
| SRGC-L3/17 | MonoMod Revision non Cemented Stem | Uncemented Femoral Revision Stem L3/17 |
| SRGC-L3/18 | MonoMod Revision non Cemented Stem | Uncemented Femoral Revision Stem L3/18 |
| SRGC-L3/19 | MonoMod Revision non Cemented Stem | Uncemented Femoral Revision Stem L3/19 |
| SRGC-L3/20 | MonoMod Revision non Cemented Stem | Uncemented Femoral Revision Stem L3/20 |
| SRGC-L3/21 | MonoMod Revision non Cemented Stem | Uncemented Femoral Revision Stem L3/21 |
| SRGC-L3/22 | MonoMod Revision non Cemented Stem | Uncemented Femoral Revision Stem L3/22 |
| SRGC-L3/23 | MonoMod Revision non Cemented Stem | Uncemented Femoral Revision Stem L3/23 |
| SRGC-L3/24 | MonoMod Revision non Cemented Stem | Uncemented Femoral Revision Stem L3/24 |
| SRGC-L3/25 | MonoMod Revision non Cemented Stem | Uncemented Femoral Revision Stem L3/25 |
| SRGC-L4/14 | MonoMod Revision non Cemented Stem | Uncemented Femoral Revision Stem L4/14 |
| SRGC-L4/15 | MonoMod Revision non Cemented Stem | Uncemented Femoral Revision Stem L4/15 |
| SRGC-L4/16 | MonoMod Revision non Cemented Stem | Uncemented Femoral Revision Stem L4/16 |
| SRGC-L4/17 | MonoMod Revision non Cemented Stem | Uncemented Femoral Revision Stem L4/17 |
| SRGC-L4/18 | MonoMod Revision non Cemented Stem | Uncemented Femoral Revision Stem L4/18 |
| SRGC-L4/19 | MonoMod Revision non Cemented Stem | Uncemented Femoral Revision Stem L4/19 |
| SRGC-L4/20 | MonoMod Revision non Cemented Stem | Uncemented Femoral Revision Stem L4/20 |
| SRGC-L4/21 | MonoMod Revision non Cemented Stem | Uncemented Femoral Revision Stem L4/21 |
| SRGC-L4/22 | MonoMod Revision non Cemented Stem | Uncemented Femoral Revision Stem L4/22 |
| SRGC-L4/23 | MonoMod Revision non Cemented Stem | Uncemented Femoral Revision Stem L4/23 |
| SRGC-L4/24 | MonoMod Revision non Cemented Stem | Uncemented Femoral Revision Stem L4/24 |
| SRGC-L4/25 | MonoMod Revision non Cemented Stem | Uncemented Femoral Revision Stem L4/25 |
Product IFU
Note: IFU will be displayed after MDR Certification