MERINEUM MESH
Polypropylene/Polylactide-Caprolactone Mesh
MERINEUM™ Mesh is a sterile, tissue separating dual layered partially absorbable surgical mesh consisting of knitted non absorbable polypropylene mesh and absorbable non-adhesive polylactide-caprolactone film. The polypropylene mesh side of the device allows for tissue in growth and provide additional support to weakened or damaged tissue while the polylactide-caprolactone film acts as anti adhesive layer and physically separates the polypropylene mesh from underlying tissue/organ surfaces during the healing to minimize the risk of unintended tissue attachment to the mesh. The mesh contains the 'F' marking on non-adhesive polylactide-caprolactone film which indicates the front side of the mesh. The MERINEUMTM MESH is available in various sizes.
BLUE LINES FOR MESH ORIENTATION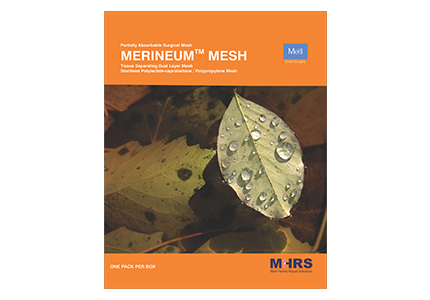 Transparent mesh facilitates the visualization of the underlying tissues and vessels
The 'F' mark helps in identifying visceral side during laparoscopic placement
Indication
MERINEUM™ MESH is indicated to be used for tissue reinforcement in Laparoscopic Ventral Hernia Repair and other fascial surgical intervention procedures.
Product Specifications
| | |
| --- | --- |
| Structure | Knitted |
| Chemical Composition | Polypropylene/Polylactide-caprolactone (PP/PLCL) |
| Pore Size | 1.5 - 2.0mm |
| Thickness | 0.5-0.6 mm |
| Brust strength | >300 N |
| Type of absorption | Partially absorption |
| Sterilization | Gamma Radiation |
Size Chart
| Product Code | Description |
| --- | --- |
| TSM715RE | PP+PLCL (7.6cm*15cm rectangular) |
| TSM1015OV | PP+PLCL (10cm*15cm oval) |
| TSM1515SQ | PP+PLCL (15cm*15cm square) |
| TSM1520RE | PP+PLCL (15cm*20cm rectangular) |
| TSM1520OV | PP+PLCL (15cm*20cm oval) |
| TSM2025OV | PP+PLCL (20cm*25cm oval) |
Product IFU
Note: IFU will be displayed after MDR Certification