MITSU C+ SUTURE
MITSU C+TM minimises the risk of suture-induced surgical site infection. It is a mid-term absorbable, braided, synthetic suture made of poly(glycolide-co-l-lactide)(90/10) and coated with chlorhexidine, an antibacterial agent. It degrades by hydrolysis, assures predictable and reliable absorption.
RETAINS 75% KNOT TENSILE STRENGTH FOR UP TO 14 DAYS
RETAINS 50% KNOT TENSILE STRENGTH FOR UP TO 21 DAYS
COMPLETE MASS ABSORPTION WITHIN 56 TO 70 DAYS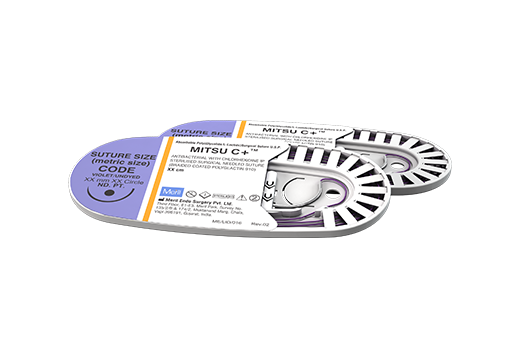 Anti-bacterial wound closure.
Smooth knot run-down/knot slide.
Gentle knot repositioning.
Minimal inflammatory reaction.
Indication
Used for general soft tissue approximation and/or ligation across suitable surgery types.
Product IFU
Note: IFU will be displayed after MDR Certification