The Meril
ACADEMY TENETS
VISION
Transform patientcare through professional education.
MISSION
Develop skill enhancement of healthcare professionals for better surgical outcomes.
GOALS
Engage 20,000 HCPs globally by 2020.
COMMITMENT
By partnering with healthcare professionals to advance surgical care, we can ensure that people live longer healthier lives.
Explore India's revolutionary education centre
A world-class, state-of-the-art training centre for medical professionals

Meril Academy prides itself as an innovative and ground-breaking training centre. It was built with the aim to disseminate cutting-edge scientific knowledge to physicians, surgeons, technicians and paramedics. Meril Academy was built with the cosmic vision of bridging the gap between the rapid advancement in technology and its impact on surgeries. Our aim is to empower those responsible for the future of healthcare.

Award-winning medical professionals from across the world, with varying training requirements, grace us with their presence. Here, they participate in relevant programmes aided by best-in-class teaching tools. Meril Academy hosts various reflective, interactive and experiential workshops comprising advanced simulators-based as well as modular learning courses.

We encourage peer-to-peer learning by enabling a collegial environment for the diffusion of knowledge. Healthcare professionals get the opportunity to discuss and practice the betterment of various procedures in interventional cardiology,arthroplasty, and in the field of surgery and diagnostics.
Training at Meril Academy
Meril Academy adds value to the skillsets of medical professionals and interns. International faculty, simulator-based learning, live case and distance learning, hardware playroom, well-stocked library are a few other reasons that some of the world's best medical talent is attracted to Meril Academy.

We offer tailor-made medical courses that are CME accredited. Furthermore, the Academy has also been accredited by The Association of Surgeons of India that represent all surgeons involved in the general surgical care of patients, from training to consultant practice.

Our training programmes comprise workshops on various reflective, interactive and experiential activities. We also offer advanced modular learning courses and wet labs (human anatomy phantoms). We have engaged more than 9000 HCPs in a little more than a year. Our courses are recognised and accredited by leading associations such as ASI, AMASI, ABSI, etc.
The Meril Training Academy sprawls 200,000 square feet in Vapi, Gujarat, India. It is articulated in the form of a wave, amidst the lap of a serene landscape, at Meril's headquarters. Established in 2015, the academy boasts several auditoriums, which can collectively accommodate more than 750 people at a time.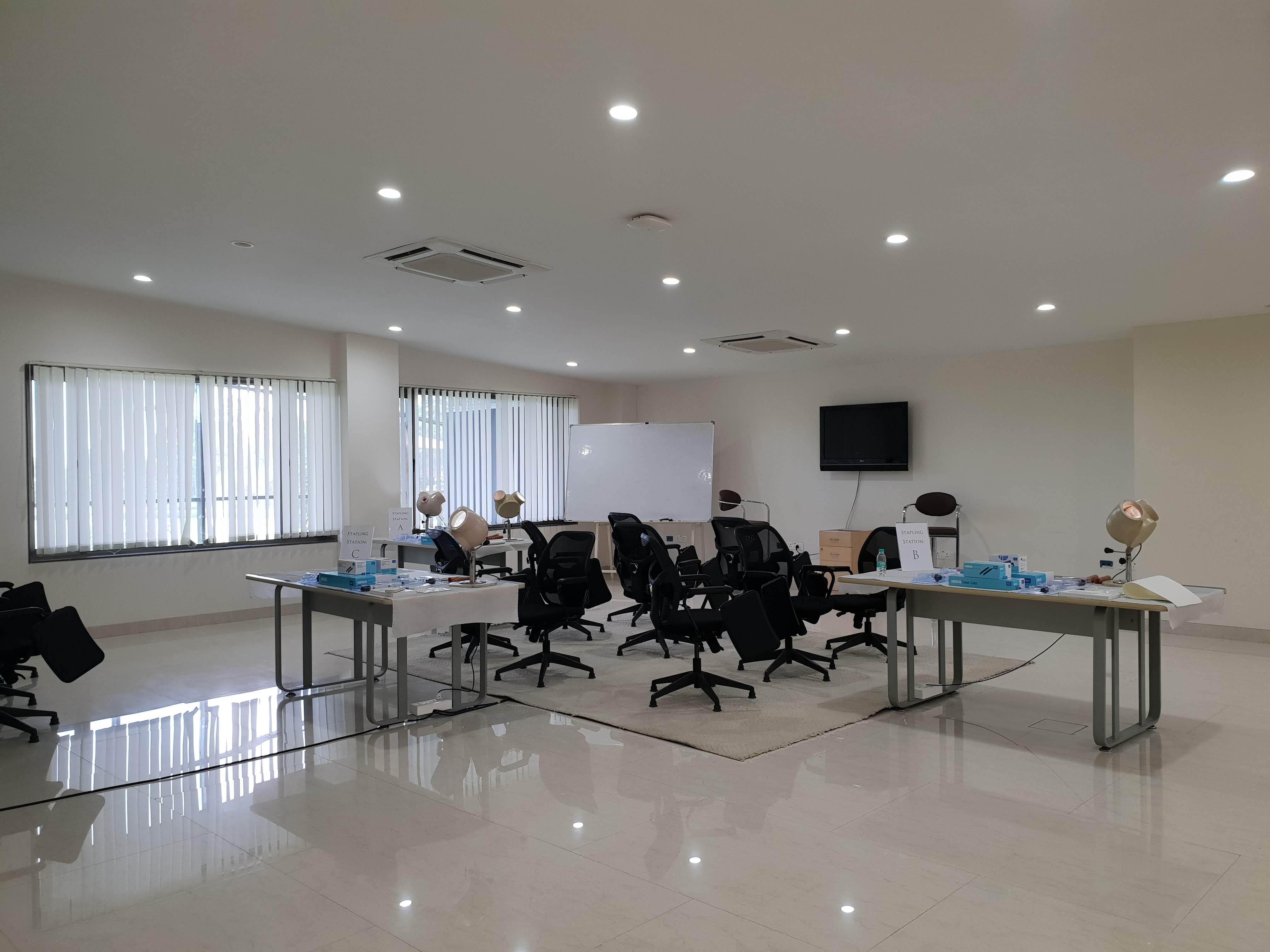 Takshashila was the ancient world's first international university. This glorious auditorium is the largest standalone property of its kind on the campus. The showstopper of our academy, it is an acoustically designed venue inspired by international benchmarks. This hi-tech edifice enables direct telecast making it ideal for large conferences, seminars and symposiums. The facility can accommodate more than 300 people at a time. It is equipped with the newest audio visual technology to handle live telecasts from different places across India and the world.
Meril Academy's Operation Theatre is equipped to enhance hands-on basic lap skills and hold advance courses. It enables healthcare professionals to learn via trial and error, refine techniques and ensure theatre effectiveness in a controlled, yet realistic setting.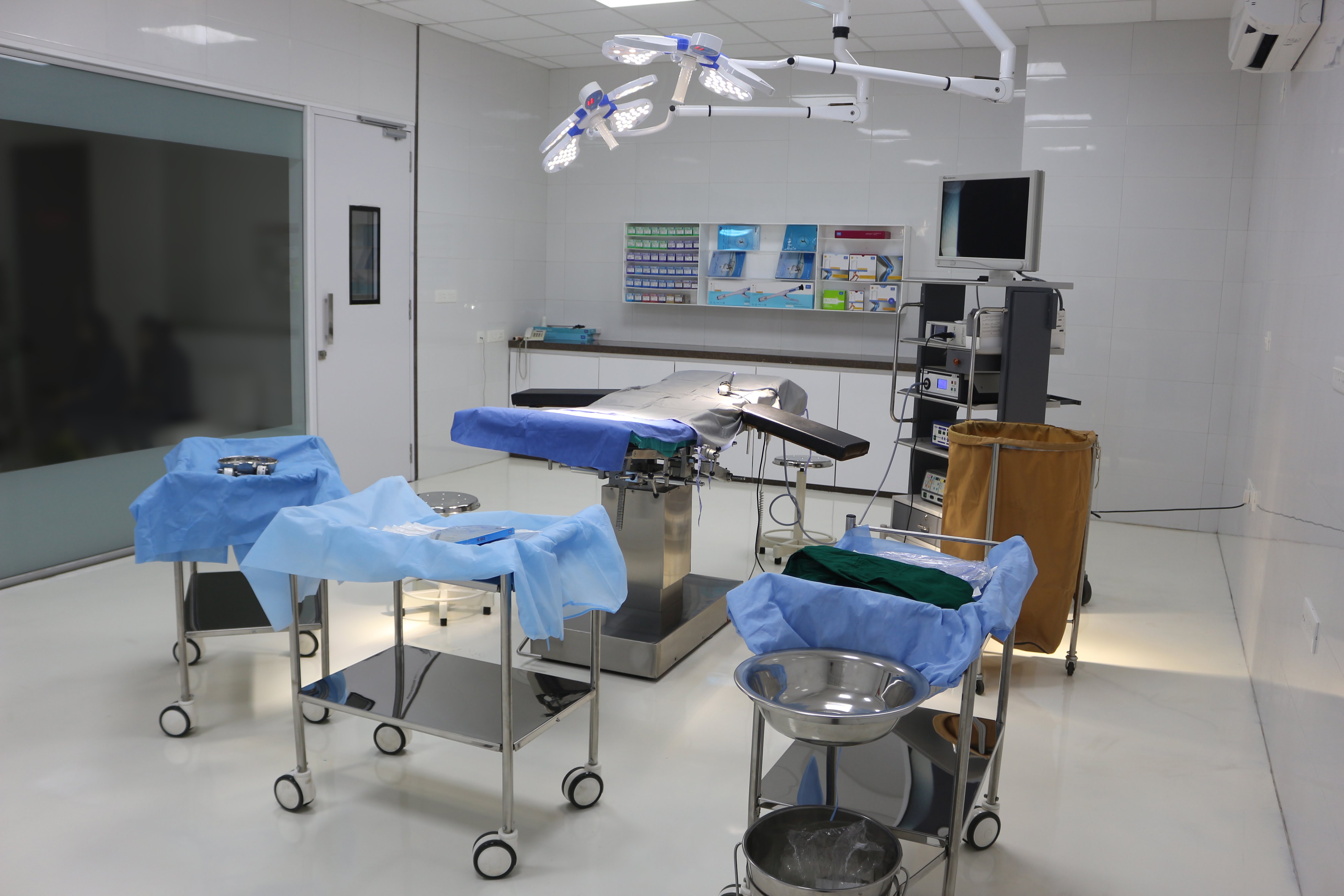 The Meril Simulation Suite sprawls 3000 square feet. It has a dedicated area for cardiology, orthopaedic and endo surgery. The room consists of endo-stations for hands-on practice to improve hand-eye co-ordination for those who intend to learn laparoscopic surgical skills.
Maharishi Sushruta was a legendry scholar of Indian Medical Science and is regarded as the Father of Surgery. Sushruta Hall is a 150-seater auditorium that is well-resourced, well-lit, Wi-Fi-enabled and spacious. It is equipped with the latest visual and interactive tools designed to facilitate smoother management of myriad events.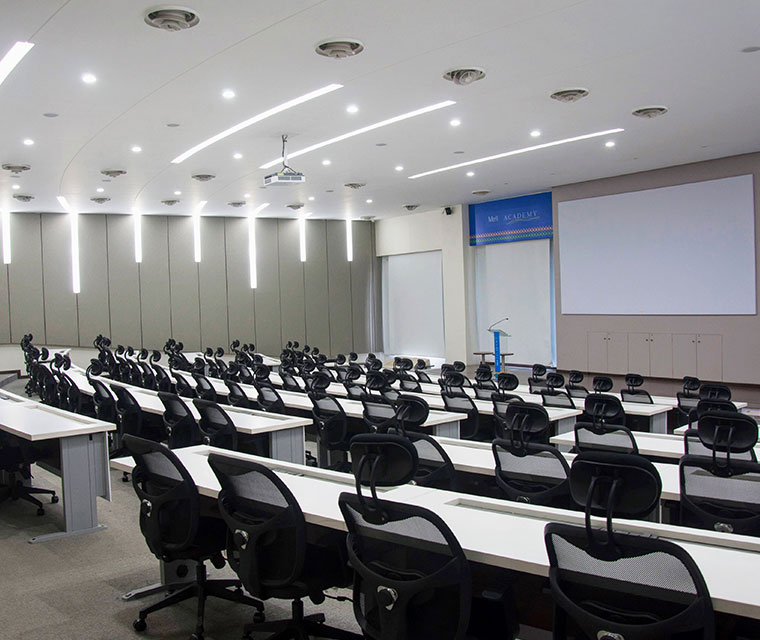 Meril Academy is committed to engaging and inspiring excellence in advancing the clinical and surgical skills of healthcare professionals. We are particularly focused on enabling doctors from the areas of general surgery, orthopaedics and cardiology. Customised, need-based learning programmes and comprehensive curricula make Meril Academy a special educational facility.

Our digital platform connects medical professionals with well-trained and experienced faculty in an interactive manner to enable the improvement of key skills. We do this for various surgical procedures such as training and demonstration videos. The courses are tailor-made and accredited to cover key essentials, which can be implemented in day-to-day practice for better patient care.