MITSU POLYGLACTIC 910 SUTURES
Polyglactin 910 Suture
MITSUTM is a mid-term absorbable braided and coated synthetic suture made of poly (glycolide-co-l-lactide) (90/10). MITSUTM degrades by hydrolysis and assures predictable and reliable absorption.
The Power Of Three
Best-in-class raw material ensuring reliability
Sharper needles for easy and effortless penetration
Consistent performance at every pass due to high needle-thread integrity
RETAINS 75% KNOT TENSILE STRENGTH FOR UP TO 14 DAYS
RETAINS 50% KNOT TENSILE STRENGTH FOR UP TO 21 DAYS
COMPLETE MASS ABSORPTION BETWEEN 56 TO 70 DAYS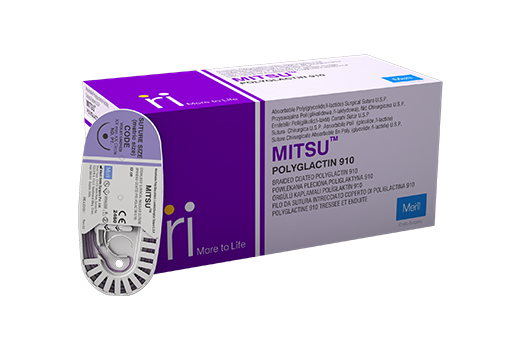 Gentle knot repositioning.
Pliable material for easy handling.
Indication
Used for general soft tissue approximation and/or ligation across suitable surgery types
Clinical Data
| STUDY NAME | TYPE OF STUDY | TOTAL PATIENTS | STATUS | LINK |
| --- | --- | --- | --- | --- |
| MITSU Polyglactin 910 Suture | Randomized controlled trial | 122 | Completed | Know more |