MERITE CU 250
MeriTe Cu 250 is an intrauterine device with a multi-load design. It is made with a combination of high-density polyethylene, ethylene vinyl acetate copolymer and barium sulphate. A 99% pure copper wire is wound around the stem, giving a total copper surface area of 25 0mm2. The monofilament nylon thread is attached to the stem.
MeriTe Cu 250 primarily works by disrupting sperm mobility and damaging sperm. It acts as a spermicide within the uterus. It increases levels of copper ions, prostaglandins, and white blood cells within the uterine and tubal fluids. Increased ions inhibit sperm mobility and viability, preventing sperm from traveling through the cervical mucus.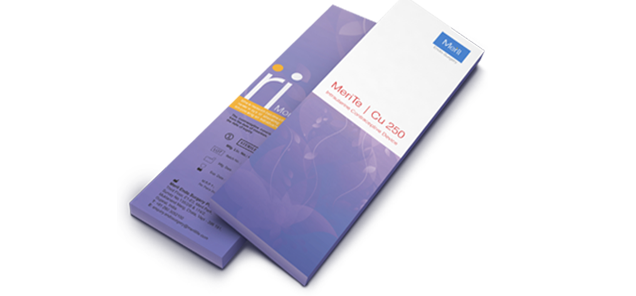 Extremely convenient and easy to load.
Long intrauterine life (3 years).
Facilitates the no-touch technique for insertion.
Can be used by women who cannot use steroidal contraceptives.
Safe for adolescents and women over 40.
Safe after abortion or miscarriage with no infection.
Safe for women with pelvic inflammatory disease currently free from infection.
Safe in HIV-infected women.
Indication
Contraception for 3 years
MERITE CU 250 Treatment to Prevent Pregnancy
The Intrauterine device (IUD) is a small T-shaped, polymeric device, covered in copper with two attached strings which is used as a method of birth control. The device is designed for insertion into the uterus which gradually releases copper into the uterus, preventing fertilization of the egg by the sperm. Know more here