CANNULATED TITANIUM TIBIAL NAIL SYSTEM
The CTTN (Cannulated Titanium Tibial Nail) is designed to fit anatomically in the medullary canal, allowing indirect reduction. CTTN Nails are Cannulated.
For diaphyseal fracture, it is recommended to lock distally first, to allow intraoperative compression. For distal fractures, it is recommended to lock distally first, to facilitate reduction.
Three innovative locking options, in combination with dual-core locking screws, to increase the stability of the proximal fragment for proximal third fracture.
Distal oblique locking option to prevent soft tissue damage and increase stability of the distal fragment.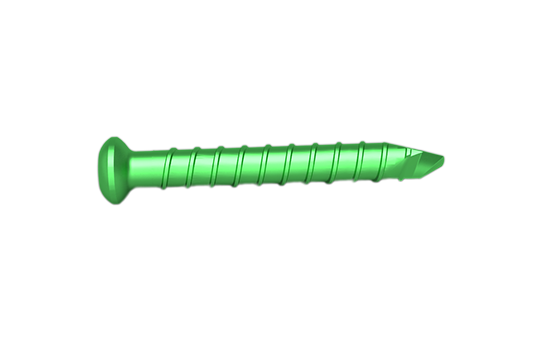 Benefits
Self-retaining T25 star drive recess for easy pick-up and insertion of nail cap.
0mm nail caps sit flush and 5, 10 and 15mm nail caps extend nail height if nail is over inserted.
Indication

The Expert Tibial Nail is indicated for fractures in the tibial shaft as well as for metaphyseal and certain intra-articular fractures of the tibial head and the pilon tibiale.
Size Chart
Part No. Titanium
Part No. SS
Description
Size
Hole /Dia.
Length
MT-NT0208255
Cannulated Titanium Tibial Nail system
Ø 8.0
255
MT-NT0208270
Cannulated Titanium Tibial Nail system
Ø 8.0
270
MT-NT0208285
Cannulated Titanium Tibial Nail system
Ø 8.0
285
MT-NT0208300
Cannulated Titanium Tibial Nail system
Ø 8.0
300
MT-NT0208315
Cannulated Titanium Tibial Nail system
Ø 8.0
315
MT-NT0208330
Cannulated Titanium Tibial Nail system
Ø 8.0
330
MT-NT0208345
Cannulated Titanium Tibial Nail system
Ø 8.0
345
MT-NT0208360
Cannulated Titanium Tibial Nail system
Ø 8.0
360
MT-NT0208375
Cannulated Titanium Tibial Nail system
Ø 8.0
375
MT-NT0208390
Cannulated Titanium Tibial Nail system
Ø 8.0
390
MT-NT0208405
Cannulated Titanium Tibial Nail system
Ø 8.0
405
MT-NT0208420
Cannulated Titanium Tibial Nail system
Ø 8.0
420
MT-NT0208435
Cannulated Titanium Tibial Nail system
Ø 8.0
435
MT-NT0208450
Cannulated Titanium Tibial Nail system
Ø 8.0
450
MT-NT0209255
Cannulated Titanium Tibial Nail system
Ø 9.0
255
MT-NT0209270
Cannulated Titanium Tibial Nail system
Ø 9.0
270
MT-NT0209285
Cannulated Titanium Tibial Nail system
Ø 9.0
285
MT-NT0209300
Cannulated Titanium Tibial Nail system
Ø 9.0
300
MT-NT0209315
Cannulated Titanium Tibial Nail system
Ø 9.0
315
MT-NT0209330
Cannulated Titanium Tibial Nail system
Ø 9.0
330
MT-NT0209345
Cannulated Titanium Tibial Nail system
Ø 9.0
345
MT-NT0209360
Cannulated Titanium Tibial Nail system
Ø 9.0
360
MT-NT0209375
Cannulated Titanium Tibial Nail system
Ø 9.0
375
MT-NT0209390
Cannulated Titanium Tibial Nail system
Ø 9.0
390
MT-NT0209405
Cannulated Titanium Tibial Nail system
Ø 9.0
405
MT-NT0209420
Cannulated Titanium Tibial Nail system
Ø 9.0
420
MT-NT0209435
Cannulated Titanium Tibial Nail system
Ø 9.0
435
MT-NT0209450
Cannulated Titanium Tibial Nail system
Ø 9.0
450
MT-NT0210255
Cannulated Titanium Tibial Nail system
Ø 10.0
255
MT-NT0210270
Cannulated Titanium Tibial Nail system
Ø 10.0
270
MT-NT0210285
Cannulated Titanium Tibial Nail system
Ø 10.0
285
MT-NT0210300
Cannulated Titanium Tibial Nail system
Ø 10.0
300
MT-NT0210315
Cannulated Titanium Tibial Nail system
Ø 10.0
315
MT-NT0210330
Cannulated Titanium Tibial Nail system
Ø 10.0
330
MT-NT0210345
Cannulated Titanium Tibial Nail system
Ø 10.0
345
MT-NT0210360
Cannulated Titanium Tibial Nail system
Ø 10.0
360
MT-NT0210375
Cannulated Titanium Tibial Nail system
Ø 10.0
375
MT-NT0210390
Cannulated Titanium Tibial Nail system
Ø 10.0
390
MT-NT0210405
Cannulated Titanium Tibial Nail system
Ø 10.0
405
MT-NT0210420
Cannulated Titanium Tibial Nail system
Ø 10.0
420
MT-NT0210435
Cannulated Titanium Tibial Nail system
Ø 10.0
435
MT-NT0210450
Cannulated Titanium Tibial Nail system
Ø 10.0
450
MT-NT0211255
Cannulated Titanium Tibial Nail system
Ø 11.0
255
MT-NT0211270
Cannulated Titanium Tibial Nail system
Ø 11.0
270
MT-NT0211285
Cannulated Titanium Tibial Nail system
Ø 11.0
285
MT-NT0211300
Cannulated Titanium Tibial Nail system
Ø 11.0
300
MT-NT0211315
Cannulated Titanium Tibial Nail system
Ø 11.0
315
MT-NT0211330
Cannulated Titanium Tibial Nail system
Ø 11.0
330
MT-NT0211345
Cannulated Titanium Tibial Nail system
Ø 11.0
345
MT-NT0211360
Cannulated Titanium Tibial Nail system
Ø 11.0
360
MT-NT0211375
Cannulated Titanium Tibial Nail system
Ø 11.0
375
MT-NT0211390
Cannulated Titanium Tibial Nail system
Ø 11.0
390
MT-NT0211405
Cannulated Titanium Tibial Nail system
Ø 11.0
405
MT-NT0211420
Cannulated Titanium Tibial Nail system
Ø 11.0
420
MT-NT0211435
Cannulated Titanium Tibial Nail system
Ø 11.0
435
MT-NT0211450
Cannulated Titanium Tibial Nail system
Ø 11.0
450
MT-NT0212255
Cannulated Titanium Tibial Nail system
Ø 12.0
255
MT-NT0212270
Cannulated Titanium Tibial Nail system
Ø 12.0
270
MT-NT0212285
Cannulated Titanium Tibial Nail system
Ø 12.0
285
MT-NT0212300
Cannulated Titanium Tibial Nail system
Ø 12.0
300
MT-NT0212315
Cannulated Titanium Tibial Nail system
Ø 12.0
315
MT-NT0212330
Cannulated Titanium Tibial Nail system
Ø 12.0
330
MT-NT0212345
Cannulated Titanium Tibial Nail system
Ø 12.0
345
MT-NT0212360
Cannulated Titanium Tibial Nail system
Ø 12.0
360
MT-NT0212375
Cannulated Titanium Tibial Nail system
Ø 12.0
375
MT-NT0212390
Cannulated Titanium Tibial Nail system
Ø 12.0
390
MT-NT0212405
Cannulated Titanium Tibial Nail system
Ø 12.0
405
MT-NT0212420
Cannulated Titanium Tibial Nail system
Ø 12.0
420
MT-NT0212435
Cannulated Titanium Tibial Nail system
Ø 12.0
435
MT-NT0212450
Cannulated Titanium Tibial Nail system
Ø 12.0
450
MT-NT0213255
Cannulated Titanium Tibial Nail system
Ø 13.0
255
MT-NT0213270
Cannulated Titanium Tibial Nail system
Ø 13.0
270
MT-NT0213285
Cannulated Titanium Tibial Nail system
Ø 13.0
285
MT-NT0213300
Cannulated Titanium Tibial Nail system
Ø 13.0
300
MT-NT0213315
Cannulated Titanium Tibial Nail system
Ø 13.0
315
MT-NT0213330
Cannulated Titanium Tibial Nail system
Ø 13.0
330
MT-NT0213345
Cannulated Titanium Tibial Nail system
Ø 13.0
345
MT-NT0213360
Cannulated Titanium Tibial Nail system
Ø 13.0
360
MT-NT0213375
Cannulated Titanium Tibial Nail system
Ø 13.0
375
MT-NT0213390
Cannulated Titanium Tibial Nail system
Ø 13.0
390
MT-NT0213405
Cannulated Titanium Tibial Nail system
Ø 13.0
405
MT-NT0213420
Cannulated Titanium Tibial Nail system
Ø 13.0
420
MT-NT0213435
Cannulated Titanium Tibial Nail system
Ø 13.0
435
MT-NT0213450
Cannulated Titanium Tibial Nail system
Ø 13.0
450
MT-ET0208000
Nail Cap for CTTN, Extension 0mm
-
-
MT-ET0208005
CLAVO™ Nail Cap for CTTN, Extension 5mm
-
-
MT-ET0208010
CLAVO™ Nail Cap for CTTN, Extension 10mm
-
-
MT-ET0208015
CLAVO™ Nail Cap for CTTN, Extension 15mm
-
-
MT-ET0208000L
CLAVO™ Nail Cap for CTTN, Extension 0mm Long
-
-
MT-ET0208005L
CLAVO™ Nail Cap for CTTN, Extension 5mm Long
-
-
MT-ET0208010L
CLAVO™ Nail Cap for CTTN, Extension 10mm Long
-
-
MT-ET0208015L
CLAVO™ Nail Cap for CTTN, Extension 15mm Long
-
-
MT-ST1540018
4.0mm Locking Screw Medullary Nail
4.0
18
MT-ST1540020
4.0mm Locking Screw Medullary Nail
4.0
20
MT-ST1540022
4.0mm Locking Screw Medullary Nail
4.0
22
MT-ST1540024
4.0mm Locking Screw Medullary Nail
4.0
24
MT-ST1540026
4.0mm Locking Screw Medullary Nail
4.0
26
MT-ST1540028
4.0mm Locking Screw Medullary Nail
4.0
28
MT-ST1540030
4.0mm Locking Screw Medullary Nail
4.0
30
MT-ST1540032
4.0mm Locking Screw Medullary Nail
4.0
32
MT-ST1540034
4.0mm Locking Screw Medullary Nail
4.0
34
MT-ST1540036
4.0mm Locking Screw Medullary Nail
4.0
36
MT-ST1540038
4.0mm Locking Screw Medullary Nail
4.0
38
MT-ST1540040
4.0mm Locking Screw Medullary Nail
4.0
40
MT-ST1540042
4.0mm Locking Screw Medullary Nail
4.0
42
MT-ST1540044
4.0mm Locking Screw Medullary Nail
4.0
44
MT-ST1540046
4.0mm Locking Screw Medullary Nail
4.0
46
MT-ST1540048
4.0mm Locking Screw Medullary Nail
4.0
48
MT-ST1540050
4.0mm Locking Screw Medullary Nail
4.0
50
MT-ST1540052
4.0mm Locking Screw Medullary Nail
4.0
52
MT-ST1540054
4.0mm Locking Screw Medullary Nail
4.0
54
MT-ST1540056
4.0mm Locking Screw Medullary Nail
4.0
56
MT-ST1540058
4.0mm Locking Screw Medullary Nail
4.0
58
MT-ST1540060
4.0mm Locking Screw Medullary Nail
4.0
60
MT-ST1540062
4.0mm Locking Screw Medullary Nail
4.0
62
MT-ST1540064
4.0mm Locking Screw Medullary Nail
4.0
64
MT-ST1540066
4.0mm Locking Screw Medullary Nail
4.0
66
MT-ST1540068
4.0mm Locking Screw Medullary Nail
4.0
68
MT-ST1540070
4.0mm Locking Screw Medullary Nail
4.0
70
MT-ST1540072
4.0mm Locking Screw Medullary Nail
4.0
72
MT-ST1540074
4.0mm Locking Screw Medullary Nail
4.0
74
MT-ST1540076
4.0mm Locking Screw Medullary Nail
4.0
76
MT-ST1540078
4.0mm Locking Screw Medullary Nail
4.0
78
MT-ST1540080
4.0mm Locking Screw Medullary Nail
4.0
80
MT-ST2750026
5.0mm Locking Screw Medullary Nail
5.0
26
MT-ST2750028
5.0mm Locking Screw Medullary Nail
5.0
28
MT-ST2750030
5.0mm Locking Screw Medullary Nail
5.0
30
MT-ST2750032
5.0mm Locking Screw Medullary Nail
5.0
32
MT-ST2750034
5.0mm Locking Screw Medullary Nail
5.0
34
MT-ST2750036
5.0mm Locking Screw Medullary Nail
5.0
36
MT-ST2750038
5.0mm Locking Screw Medullary Nail
5.0
38
MT-ST2750040
5.0mm Locking Screw Medullary Nail
5.0
40
MT-ST2750042
5.0mm Locking Screw Medullary Nail
5.0
42
MT-ST2750044
5.0mm Locking Screw Medullary Nail
5.0
44
MT-ST2750046
5.0mm Locking Screw Medullary Nail
5.0
46
MT-ST2750048
5.0mm Locking Screw Medullary Nail
5.0
48
MT-ST2750050
5.0mm Locking Screw Medullary Nail
5.0
50
MT-ST2750052
5.0mm Locking Screw Medullary Nail
5.0
52
MT-ST2750054
5.0mm Locking Screw Medullary Nail
5.0
54
MT-ST2750056
5.0mm Locking Screw Medullary Nail
5.0
56
MT-ST2750058
5.0mm Locking Screw Medullary Nail
5.0
58
MT-ST2750060
5.0mm Locking Screw Medullary Nail
5.0
60
MT-ST2750062
5.0mm Locking Screw Medullary Nail
5.0
62
MT-ST2750064
5.0mm Locking Screw Medullary Nail
5.0
64
MT-ST2750066
5.0mm Locking Screw Medullary Nail
5.0
66
MT-ST2750068
5.0mm Locking Screw Medullary Nail
5.0
68
MT-ST2750070
5.0mm Locking Screw Medullary Nail
5.0
70
MT-ST2750072
5.0mm Locking Screw Medullary Nail
5.0
72
MT-ST2750074
5.0mm Locking Screw Medullary Nail
5.0
74
MT-ST2750076
5.0mm Locking Screw Medullary Nail
5.0
76
MT-ST2750078
5.0mm Locking Screw Medullary Nail
5.0
78
MT-ST2750080
5.0mm Locking Screw Medullary Nail
5.0
80
MT-ST2750085
5.0mm Locking Screw Medullary Nail
5.0
85
MT-ST2750090
5.0mm Locking Screw Medullary Nail
5.0
90
MT-ST2750095
5.0mm Locking Screw Medullary Nail
5.0
95
MT-ST2750100
5.0mm Locking Screw Medullary Nail
5.0
100
Product IFU
Note: IFU will be displayed after MDR Certification