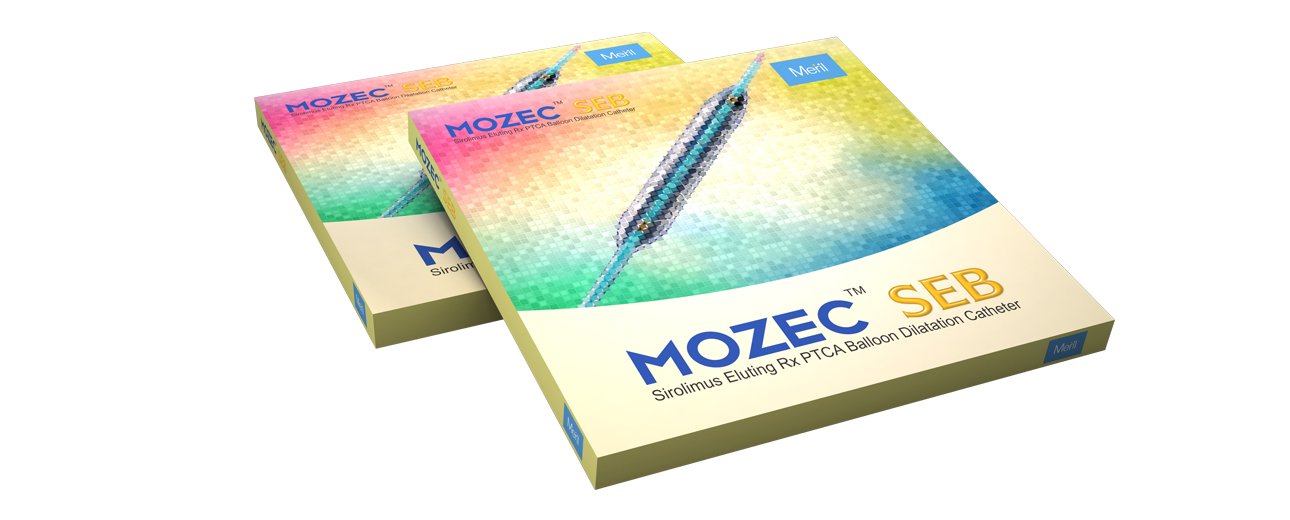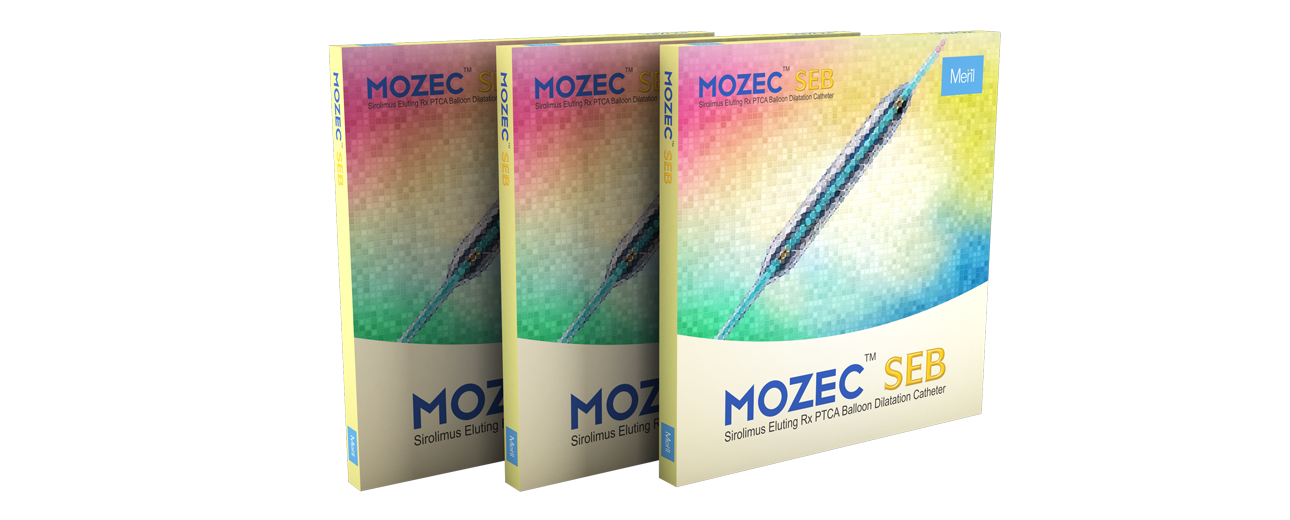 100

PLUS PATIENTS CLINICAL STUDY IN INDIA CURRENTLY ENROLLING.
MOZEC SEB BDC
MOZECTM SEB offers controlled and targeted sirolimus drug release. Nanotech Novel Drug Delivery System features a unique formulation of Solid lipid nano spheres (SLN) consisting of sirolimus and lipid spheres. Deliverability enhanced with Mozec PTCA catheter:
PTFE coated proximal shaft for enhanced navigability and cross challenging lesions.
Low tip profile and semi-compliant balloon material allowing flat compliance.
Transparent ergonomic hub displaying balloon dimensions with flexible distal segment and pushable proximal segment.
Benefits
Nanotech Novel Drug Delivery System for controlled release of sirolimus for ISR cases.
Product Specifications
| | |
| --- | --- |
| Catheter Design | Rapid Exchange |
| Tip Entry Profile | 0.016" |
| Crossing Profile | 0.024" |
| Balloon material composition | NovalonTM |
| Balloon Compliance | Semi-Compliant |
| Hydrophilic Coating | MeriGlideTM - from base of distal tip to Rx-port |
| Nominal | 7atm |
| RBP | 16atm for 2 to 4mm diameters; 14atm for 4.5mm diameter |
Size Chart
Diameter/Length
9 mm
12 mm
14 mm
15 mm
17 mm
20 mm
25 mm
30 mm
33 mm
38 mm
41 mm
45 mm
49 mm
2.00 mm
MOZS20009
MOZS20012
MOZS20014
MOZS20015
MOZS20017
MOZS20020
MOZS20025
MOZS20030
MOZS20033
MOZS20038
MOZS20041
MOZS20045
MOZS20049
2.25 mm
MOZS22509
-
MOZS22514
-
MOZS22517
MOZS22520
MOZS22525
MOZS22530
-
MOZS22538
MOZS22541
MOZS22545
MOZS22549
2.50 mm
MOZS25009
MOZS25014
MOZS25017
MOZS25020
MOZS25025
MOZS25030
MOZS25038
MOZS25041
MOZS25045
MOZS25049
2.75 mm
MOZS27509
MOZS27514
MOZS27517
MOZS27520
MOZS27525
MOZS27530
MOZS27538
MOZS27541
MOZS27545
MOZS27549
3.00 mm
MOZS30009
MOZS30014
MOZS30017
MOZS30020
MOZS30025
MOZS30030
MOZS30038
MOZS30041
MOZS30045
MOZS30049
3.50 mm
MOZS35009
MOZS35014
MOZS35017
MOZS35020
MOZS35025
MOZS35030
MOZS35038
MOZS35041
MOZS35045
MOZS35049
4.00 mm
MOZS40009
MOZS40014
MOZS40017
MOZS40020
MOZS40025
MOZS40030
MOZS40038
MOZS40041
MOZS40045
MOZS40049
4.50 mm
MOZS45009
MOZS45014
MOZS45017
MOZS45020
MOZS45025
MOZS45030
MOZS45038
MOZS45041
MOZS45045
MOZS45049
Product IFU
Note: IFU will be displayed after MDR Certification