MERISCREEN MALARIA PF/PV AG
MeriScreenTM Malaria Pf/ Pv Ag test kit is an in-vitro diagnostic immunochromatographic assay for the qualitative detection of infection with Plasmodium parasites causing malaria in human whole blood specimens. It does not assess parasite densities.
DETECTION OF HISTIDINE RICH PROTEIN 2 SPECIFIC FOR P. FALCIPARUM (PF-HRP2)
DETECTION OF PLASMODIUM LACTATE DEHYDROGENASE SPECIFIC TO PLASMODIUM VIVAX (PV-PLDH)
USE OF MONOCLONAL ANTIBODIES FOR BETTER SPECIFICITY
IMMUNOCHROMATOGRAPHY TEST FOR DIFFERENTIAL DIAGNOSIS OF MALARIA SPECIES PF AND PV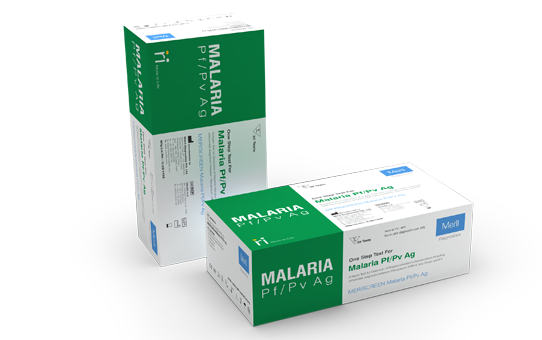 No preprocessing of samples required (5 microlitre).
Can be easily deployed as point of care testing in remote areas.
Clear background for easy visualization and interpretation.
Analytical Sensitivity (Pf): 50 Parasites
Analytical Sensitivity (Pv): < 200 Parasites
Diagnostic Sensitivity > 95%
Diagnostic Specificity > 95%
Indication
Detection of Plasmodium infections

Clear differentiation between P. falciparum and P. vivax infections
Product Specifications
Intended Use
One step immunochromatographic assay for qualitative detection of infection with Plasmodium falciparum and Plasmodium vivax causing malaria
Principle
Sandwich Immunoassay
Technique
Lateral flow(ICT)
Detection
Histidine rich protein 2 specific for Plasmodium falciparum (P-HRP-2)
Plasmodium lactate dehydrogenase common to all Plasmodium species (Pv - pLDH)
Capture
Pf Region -Histidine rich protein 2 specific for Plasmodium falciparum (P-HRP-2)
Pv Region - Plasmodium lactate dehydrogenase common to all human Plasmodium species (Pv - pLDH)
Conjugate
Antibodies specific to P-HRP-2 and Pv - pLDH coupled with colloidal gold
Type of Specimen required
Whole Blood
Specimen Volume
5 ml
Result interpretation time
20 minutes
Analytical Sensitivity (Pf)
50 Parasites
Analytical Sensitivity (Pv)
< 200 Parasites
Diagnostic Sensitivity
> 95%
Diagnostic Specificity
> 95%
Size Chart
Ordering Information
| Product Code | Material Description | Pack Size |
| --- | --- | --- |
| RPDMFV-01 | MeriScreen Malaria Pf/Pv Ag | 30 Tests |
Product IFU
Note: IFU will be displayed after MDR Certification