MYOSIST
Intra Aortic Balloon Catheter Kit (8F)
The MYOSISTTM Intra Aortic Balloon Catheter Kit & accessories are used to provide counter pulsation therapy in the aorta, whereby balloon inflation during diastole and deflation during systole increases blood supply to the heart muscle and decreases the work of the left ventricle.
Device Placement :
The device is placed in the descending aorta approximately 2 centimeters (0.79 in) from the left subclavian artery.
By balloon inflation in aorta during diastole and deflation during systole, it increases blood supply to heart muscle and decreases work of the left ventricle.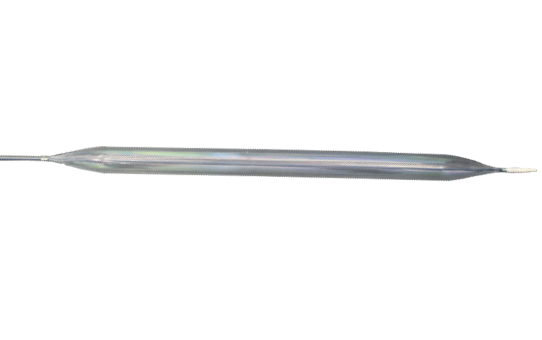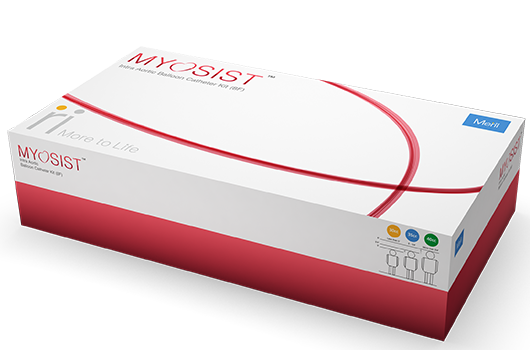 Highly Durable & Flexible Balloon Membrane Tested for 1 million inflation-deflation cycles for functionality and performance integrity.
Radiopaque Catheter Tip & Markers Easy to locate the MYOSISTTM deployment under fluroscopy. Catheter consists of optimized placement of radiopaque markers and radiopaque tip
Optimized Insertion Length With 710 mm insertion length, the MYOSISTTM is placed in proper positioning.
Inner Lumen Diameter 0.028 inch diameter provides a medium to measure excellent arterial pressure
Indication
Cardiogenic shock :
Associated with acute MI, mechanical complications of MI - MR , VSD
In association with CABG :
Preoperative insertion
Patients with severe LV dysfunction
Patients with intractable ischemic arrhythmias
Postoperative insertion
Postcardiotomy cardiogenic shock
In association with nonsurgical revascularization:
Hemodynamically unstable infarct patients
High risk coronary interventions
severe LV dysfunction, LMCA, complex coronary artery disease
CVTS In Cardiopulmonary Bypass:
Coronary bypass Graft
Cardiac valve repair (Aortic, mitral, tricuspid, pulmonary)
Repair of large septal defects (atrial septal defects, venticular septal defects)
Transplantation (Heart and Lung).
Product Specifications
Balloon Volume (cc)
30
35
40
Guideline Patient Height (cm)
<152
152-162
162-183
Balloon Diameter (mm)
14.5
15
15
Balloon Length (mm)
225
227
259
Balloon Catheter Length (mm)
855
Balloon Catheter Usable Length (mm)
710
Catheter Profile (french)
8
Inner Lumen ID (inch)
0.028
Guidewire Size (inch)
0.025
Console Compatibility
Datascope®: System 97, 98, 98XT, CS100, CS300, CARDIOSAVE
Arrow®: ACAT, AutoCAT, AutoCAT 2, AutoCAT 2 Wave, KAAT II
Size Chart
| Product Code | Product Code Description |
| --- | --- |
| MYS0830 | Myosist IAB Catheter Kit 8F 30CC |
| MYS0835 | Myosist IAB Catheter Kit 8F 35CC |
| MYS0840 | Myosist IAB Catheter Kit 8F 40CC |