MOZEC PEB PTA
PTA balloon catheter
MOZECTM PEB is a paclitaxel coated PTA balloon catheter indicated for treatment of peripheral vessels with obstructive disease, sub-total or totally occluded vessel. With a drug dose of 3µg/mm², MOZECTM PEB upgrades your efficiency to treat and manage patients with long, diffused disease up to 200mm at one go.
Extends your reach of drug treatment - longest length 200mm
Securing outcomes with proprietary drug adhesion technology
Enhanced navigation with MOZECTM PTA platform
Upgrades Efficiency with 200mm Long Balloons
Available for both BTK and SFA Indications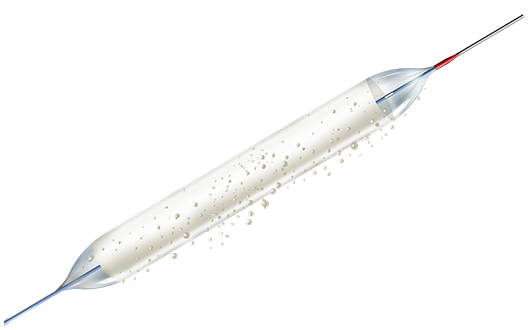 Longer length balloons (200mm) reduces need for multiple balloons and subsequent exposure time.
Proprietary drug adhesion technology ensures minimal drug loss due to physical contact.
Improved efficiency - 95% of drug transferred to vessel wall in first 30 sec.
MOZEC PTA platform ensures very smooth balloon navigation.
Available in both 0.014" and 0.035" and wire compatible.
Product Specifications
| | Mozec PEB PTA 14 | Mozec PEB PTA 35 |
| --- | --- | --- |
| Catheter System | Over-The-Wire (OTW) | Over-The-Wire (OTW) |
| Balloon Material | PEBA | PEBA |
| Drug Type | Paclitaxel (Crystalline form) | Paclitaxel (Crystalline form) |
| Drug Dosage | 3 µg/mm² | 3 µg/mm² |
| Excipient | Poly Ethylene Glycol (PEG-200) + Urea AR grade + Acetone | Poly Ethylene Glycol (PEG-200) + Urea AR grade + Acetone |
| Catheter Usable Length | 80 cm & 150 cm | 80 cm & 150 cm |
| Max Guidewire Compatibility | 0.014" | 0.035" |
| Min Sheath Comptibility | 5 -8F | 5 - 8F |
| Distal Puchase | 5.0 ± 1 mm | 5.0 ± 1 mm |
| Balloon RO Markers | 2 Platinum-Iridium | 2 Platinum-Iridium |
| Nominal Pressure (NP) | 6 / 7 atm (Refer compliance chart for details) | 6 / 7 atm (Refer compliance chart for details) |
| Rated Burst Pressure (RBP) | 11 - 14 atm (Refer compliance chart for details) | 11 - 14 atm (Refer compliance chart for details) |
Size Chart
MOZEC PEB PTA 14
Diameter / Length
40 mm
60 mm
80 mm
120 mm
150 mm
200 mm
250 mm
2 mm
MO14P020040B
MO14P020060B
MO14P020080B
MO14P020120B
MO14P020150B
MO14P020200B
MO14P020250B
2.5 mm
MO14P025040B
MO14P025060B
MO14P025080B
MO14P025120B
MO14P025150B
MO14P025200B
MO14P025250B
3 mm
MO14P030040B
MO14P030060B
MO14P030080B
MO14P030120B
MO14P030150B
MO14P030200B
MO14P030250B
3.5 mm
MO14P035040B
MO14P035060B
MO14P035080B
MO14P035120B
MO14P035150B
MO14P035200B
MO14P035250B
4 mm
MO14P040040B
MO14P040060B
MO14P040080B
MO14P040120B
MO14P040150B
MO14P040200B
MO14P040250B
MOZEC PEB PTA 35
Diameter / Length
40 mm
60 mm
80 mm
120 mm
150 mm
200 mm
250 mm
300 mm
3 mm
MO35P030040B
MO35P030060B
MO35P030080B
MO35P030120B
MO35P030150B
MO35P030200B
MO35P030250B
MO35P030300B
4 mm
MO35P040040B
MO35P040060B
MO35P040080B
MO35P040120B
MO35P040150B
MO35P040200B
MO35P040250B
MO35P040300B
5 mm
MO35P050040B
MO35P050060B
MO35P050080B
MO35P050120B
MO35P050150B
MO35P050200B
MO35P050250B
MO35P050300B
6 mm
MO35P060040B
MO35P060060B
MO35P060080B
MO35P060120B
MO35P060150B
MO35P060200B
MO35P060250B
MO35P060300B
7 mm
MO35P070040B
MO35P070060B
MO35P070080B
MO35P070120B
MO35P070150B
8 mm
MO35P080040B
MO35P080060B
MO35P080080B
MO35P080120B
MO35P080150B
Product IFU
Note: IFU will be displayed after MDR Certification