PROMESA BMS
Promesa BMS is a self expanding Nitinol peripheral stent system for use in peripheral vasculature which undergoes various axial, longitudinal and other relative forces. Promesa delivers Impactful Performance and Enduring Outcomes.The use of Nitinol self expanding stents may also extend to biliary usage.
• Hybrid stent architecture: Open Cell + Closed Cell design
• Higher stent Integrity & Improved Durability
• Placement Accuracy and Visibility
• Improved Access & Deliverability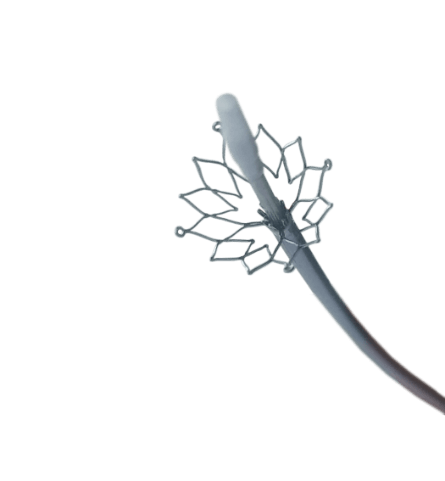 Hybrid cell design provides excellent balance of flexibility, conformability and kink resistance.
Hi-grade electropolishing and surface finishing adds to stent integrity and extends durability.
Platinum-Iridium marker bands facilitates precise stent positioning.
6F system facilitates room for contrast injections, providing anatomical visibility during stent delivery.
Braided pull back device delivery system provides optimal balance between shaft pushability and excellent trackability.
Product Specifications
| | |
| --- | --- |
| Stent Material | Nickel Titanium Alloy (NiTi-nol) |
| Strut Thickness | 170 µ |
| Stent Diameters (mm) | 5, 6, 7, 8, 9, 10 |
| Stent Lengths (mm) | 30, 40, 60, 80, 100, 120, 150, 180 |
| Mean Recoil | 0% |
| Mean Foreshortening | 3.00% |
| Delivery System | Over-The-Wire (OTW) |
| Usable Catheter Length | 80 & 120 cm |
| Max Guidewire Compatibility | 0.035" |
| Radiopaque markers | 2 Platinum-Iridum marker bands |
| Recommended Sheath / Introducer | 6F |
Size Chart
| Diameter / Length | 40 mm | 60 mm | 80 mm | 100 mm | 120 mm | 150 mm | 180 mm | 200 mm | 220 mm |
| --- | --- | --- | --- | --- | --- | --- | --- | --- | --- |
| 5 mm | PRB0500040B | PRB0500060B | PRB0500080B | PRB0500100B | PRB0500120B | PRB0500150B | PRB0500180B | PRB0500200B | PRB0500220B |
| 6 mm | PRB0600040B | PRB0600060B | PRB0600080B | PRB0600100B | PRB0600120B | PRB0600150B | PRB0600180B | PRB0600200B | PRB0600220B |
| 7 mm | PRB0700040B | PRB0700060B | PRB0700080B | PRB0700100B | PRB0700120B | PRB0700150B | PRB0700180B | PRB0700200B | PRB0700220B |
| 8 mm | PRB0800040B | PRB0800060B | PRB0800080B | PRB0800100B | PRB0800120B | PRB0800150B | PRB0800180B | PRB0800200B | PRB0800220B |
| 9 mm | PRB0900040B | PRB0900060B | PRB0900080B | | | | | | |
| 10 mm | PRB1000040B | PRB1000060B | PRB1000080B | PRB1000100B | PRB1000120B | | | | |
Product IFU
Note: IFU will be displayed after MDR Certification