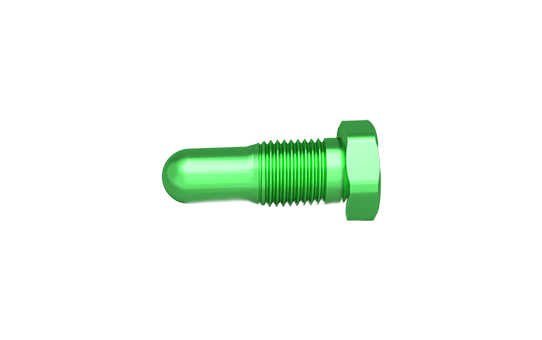 ELASTIC TITANIUM NAIL
The Elastic Titanium Nail system was developed for elastic stable intramedullary nailing.
The optimal material was chosen for appropriate mechanical stability combined with adequate elasticity.
The tip of the nail allows easy insertion and sliding. It is available in titanium alloy (TI-6AI-4V).
Ti alloy implants combine excellent mechanical stability with elastic properties. Sharp self-cutting thread in nail cap for proper fixation in bone.
The diameter of the individual nail should be 30%-40% of the narrowest medullary canal.
Indication
ETN is used for the osteosynthesis of clavicle, femoral, tibia, radius ulna and humerus fractures.
Size Chart

Elastic Titanium Nails are available in six diameters: 1.5mm, 2.0mm, 2.5mm, 3.00mm, 3.5mm and 4.0mm. The 1.5mm diameter nail is 300mm long. The 2.0mm through 4.0mm diameter nails are 440mm long with easy insertion and sliding tip. Two sizes of nail caps cover all nail diameters. Nail cap is designed to prevent soft tissue irritation.
Size Chart
Part No. Titanium
Part No. SS
Description
Size
Hole /Dia.
Length
MT-NT0515300
Elastic Titanium Nail
Ø1.5
300
MT-NT0520440
Elastic Titanium Nail
Ø2.0
440
MT-NT0525440
Elastic Titanium Nail
Ø2.5
440
MT-NT0530440
Elastic Titanium Nail
Ø3.0
440
MT-NT0535440
Elastic Titanium Nail
Ø3.5
440
MT-NT0540440
Elastic Titanium Nail
Ø4.0
440
MT-ET0615000
Nail Cap for Elastic Titanium Nail Ø1.5 to Ø2.5
-
-
MT-ET0630000
Nail Cap for Elastic Titanium Nail Ø1.5 to Ø2.5
-
-
Product IFU
Note: IFU will be displayed after MDR Certification