MERICRON 3D MESH
Polyester 3D Mesh
"Porous Structure to Favour Fast Tissue Ingrowth and Colonization".
MERICRON 3DTM MESH is a polyester mesh that offers better tissue compatibility and patient comfort.
POLYESTER 3D MESH
POROUS STRUCTURE FOR FAST TISSUE INGROWTH AND COLONIZATION
SEMI-RIGID STRUCTURE FOR OPTIMAL ABDOMINAL FIT
SHAPE MEMORY FOR USE VIA LAPAROSCOPIC OR OPEN SURGERY
ELASTICITY AND EXCELLENT MULTI-DIRECTIONAL MECHANICAL PROPERTIES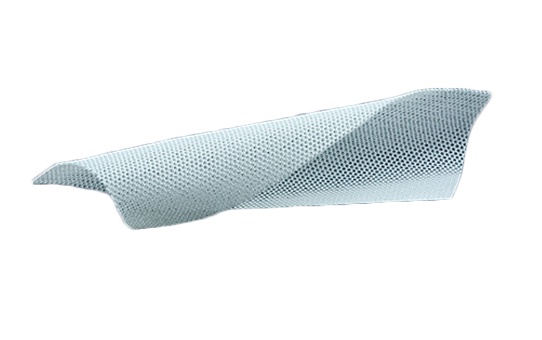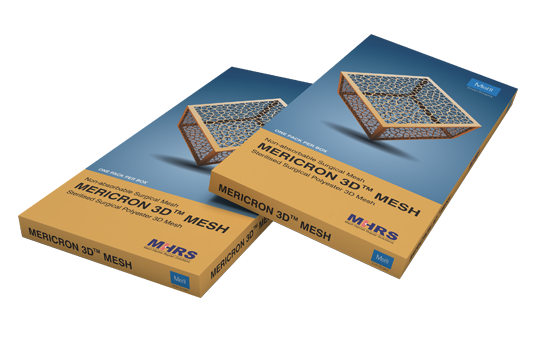 Flexible Material: Reduced post operative pain
Hydrophilic Material: Contours well with body structure, encourages early collagen ingrowth into surrounding tissue.
Weave Structure - Warp and Weft knitting: Elasticity and excellent multidirectional mechanical properties.
Shrinkage: less long term shrinkage, less contracture.
Indication
Abdominal wall reinforcement
Ventral
Inguinal
Femoral hernias
For laparoscopic or open surgery
Product Specifications
| | |
| --- | --- |
| Structure | Tridimensional "honeycomb" knitted structure |
| Colour | White |
| Chemical composition | Polyester (PET) multifilaments |
| Thickness | 1.14 mm |
| Sizes | 6cm x 11cm, 7.6cm x 15cm, 10cm x 15cm, 12cm x 15cm, 15cm x 15cm, 30cm x 30cm |
| Pore Size | 1.59 mm x 1.41 mm |
| Weight | 120 gsm |
| Burst Strength | 47.1N/cm2 |
| Type of absorption | Non-absorbable |
| Sterilization | Ethylene oxide |